What is a Corporate Video?
Corporate videos are around us everywhere we look. From when you go on YouTube to Instagram to Facebook to LinkedIn you are bombarded with them. They are increasingly becoming an important tool in a marketers arsenal since they are an effective way to communicate and engage with target audiences.
In this article we are going to into what a Corporate Video is, what makes it different from other forms of video marketing, advantages, the 9 different types of corporate videos, what should a corporate video include, corporate video pricing, examples and frequently asked questions.
Watch the Video Version
Check out the video version of this post if you prefer watching to reading.
Corporate Video Definition
Corporate Videos are a form of video communication used for internal or external corporate messaging.
Internal communication is when members of an organization exchange information with each other. For example, employees.
External communication is when those members interact and communicate with people outside of the organization. For example, clients and customers.
What makes Corporate Videos different from other forms of Video Marketing?
Corporate videos are different from other forms of video marketing, like commercials for example, because they are intended for a specific audience rather than the general public. The target audience tends to be the company's core selling demographics or internal employees.
Advantages of Corporate Video?
Corporate Videos have many advantages. The biggest include the following:
Video Increases Trust
Video Will Increase Your Conversion Rates
Video Keeps You Competitive
Video Helps Your SEO
9 Different Types of Corporate Videos
There are 9 different types of Corporate Videos:
Company Profile Videos
Promotional/Brand Videos
Explainer Videos
Investor Relations/Financial Results
Recruiting/Training/How-To/Safety Videos
Internal Communication Videos
Event/Conference/Tradeshow Videos
Testimonial Videos
Corporate Social Responsibility Videos
Click here to check out our detailed blog post about each type of Corporate Videos.
What Should A Corporate Video Include?
Corporate Videos should always include 4 elements:
Ideal video length (Under 3 minutes)
Call to Action (CTA)
Message
Shareability
How much does a Corporate Video cost?
Corporate videos are not productized so they have to be quoted on a per project basis. To determine the cost of your video, we ask 9 key questions.
Why do you want to create a video?
How long will the final video be?
How many video deliverables do you require?
Number of Shooting Days
Where will we be shooting? (on-location or in-studio)
How many people will there be in the video(s) and in what capacity?
Are you providing the talent or do you need actors?
Will you require any motion graphics or animations?
What is the deadline?
Having said that, the average cost to create a video is as follows…
On the low end, you have freelance videographers and new businesses which will charge under $2,500 for a video. On the medium end, you have production companies that have been in the game for over 5 years. These companies will charge anywhere from $3,500 to $10,000 per video on average. On the high end, you have the big players that won't take on anything less than $10,000.
Examples of Corporate Videos we have produced
Let's Create Your Video Today
If you're looking for top-notch quality, industry expertise, dependability, and competitive pricing, don't wait any longer. Contact us now for a quote and let's get started on your project.
Frequently Asked Questions
Read More From Our Video Blog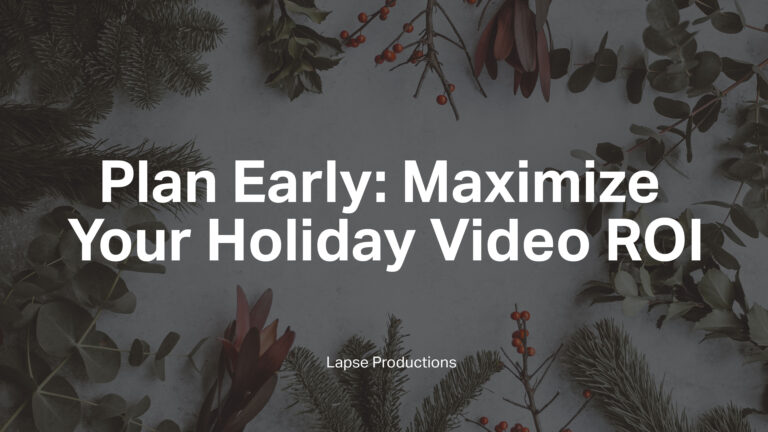 Maximize your holiday video campaigns with early planning. Dive into our three-tiered strategy, key dates,…