4 Benefits of Video
In this article, Lapse Productions is going to go over the 4 Benefits of Video. We are going to go into detail on how video increases trust, increases your conversion rates, keeps you competitive, and helps your SEO strategy.
1) Video Increases Trust
The first benefit of video is that it increases trust.
The benefit of increasing trust in your brand is that it will result in increased conversions. Conversions in turn will lead to increased sales. 
According to a 2020 study by Biteable, they found that 52% of marketers found that video helps them build trust with potential customers.
There are several types of corporate videos that your brand can create to increase trust in your target audience: There are product videos, explainer videos, testimonial videos, and company profile videos.
2) Video Will Increase Your Conversion Rates
The second benefit of Video is that it will increase your conversion rates.
What is a conversion rate? A conversion rate is the percentage of users that visit your website and complete an action. This action is determined by you and it can be anything from just simply visiting your website to making a purchase, clicking on a link, submitting a form, subscribing to a newsletter, calling you, using the online chat, or clicking on your video.
So how does video increase conversion rates?
Video increases conversion rates because your target market prefers it over text. Think about it this way: If a picture is worth a thousand words, then what would a video be worth? (Remember that each second of a video is 24 to 30 frames; a frame is considered a picture.)
But let's go over some stats:
A white paper study by Forbes reported that 90% of consumers said video helps in buying decisions and 64% said it made them more willing to buy.
A Hubspot Study showed that conversions on website landing pages have seen an increase of 80% when a video was added.
According to research from the Aberdeen Group, there is a reported 27% higher click-through rate on video users and 34% higher web conversion rates.
Klientboost reported an increase of 60% in landing page conversions according to their A/B testing.
3) Video Keeps You Competitive
The third benefit of video is that it will keep you competitive.
Video is not the future. It's the present. According to Cisco, over 80% of the world's internet traffic consisted of video in 2020 and that number is only going one way, up. Another study by Wyzowl found that over 97% of businesses that used video found that it helped increase their target markets' understanding of their products or services.
What we can make of these studies is that businesses are utilizing video content to their advantage. This raises the question of "Are you using video to your advantage?" If the answer to this question is no or not really then you have to question the effectiveness of your sales and marketing strategies. Even if you are in a field where your competitors do not use video then ask yourself if maybe there is a hidden advantage there that they are not seeing.
4) Video Helps Your SEO
The fourth benefit of video is that it helps your Search Engine Optimization strategy.
Search Engine Optimization (SEO) is your websites ranking on the search engines. Google is the world's largest search engine so it is important that a business optimizes its website as much as possible to Google's requirements.
The benefit of having a strong SEO strategy is that your business will appear higher on the SERPs (Search Engine Results Page). The higher you are the higher the amount of traffic, and hopefully sales, your business will make.
Your company's SEO strategy will have to be diverse if it is to be successful.
One strategy that you can add to your arsenal is to create video content.
Let's go over why Video will help with your SEO strategy:
Google likes video: Google is all about providing the best possible search results for its users. So everything that it does has a good purpose behind it. Case in point, Google's internal algorithm checks for video content on your website and if it is properly marked up with schema then it will be displayed at the top of the search results. (Note: Schema markup is not enough for your video content to rank, you will have to provide high quality content that has enough traction.)
Your Video can be at the top of the Search Page: If your video content is properly marked up with Schema or Rich Snippets and it is also of high quality then there is a chance that your video can rank at the top of the search results for certain search queries.
Video Generates Traffic: Posting your video content to YouTube, Facebook, Instagram, Twitter, and LinkedIn can lead to more social traffic. Traffic is another factor that determines your SEO ranking.
Video Increases Dwell Time and Bounce Rate: Bounce Rate and Dwell time are calculations of how long a user spends on your website before leaving. Good quality videos on your website will provide you with better measures for dwell time and bounce rate because a user will spend more time watching your video in addition to checking your website.
Video increases Backlinks: Backlinks are when a website links to your website. They are valuable for SEO ranking because backlinks from high authority websites will help with your ranking. The reason for this is because they are signalling to Google that the content on your website is worth sharing or discussing. This will also increase your referral traffic.
Ready To Make Your Video?
In this article we discussed the 4 benefits of video. These benefits are: Increased Trust, Conversion Rates, Keeping Your Business Competitive, and A Better SEO Strategy. If you were still on the fence about the importance of video then you should now be convinced of its importance. So if you are interested in producing a video for your business then reach out to me directly at dario@lapseproductions.com for a competitive quote.
Let's Create Your Video Today
If you're looking for top-notch quality, industry expertise, dependability, and competitive pricing, don't wait any longer. Contact us now for a quote and let's get started on your project.
Frequently Asked Questions
Read More From Our Video Blog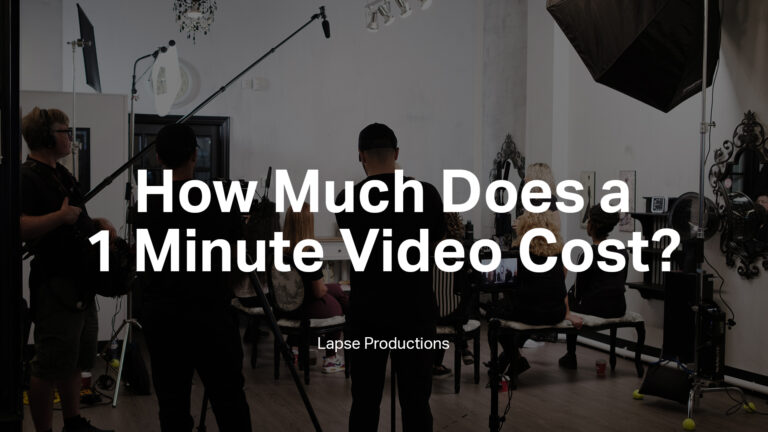 Discover the costs of producing a 1-minute video in Toronto. Explore factors like crew, equipment,…