How to Optimize Your YouTube Video
Creating video content is only one part of a successful marketing strategy. The second thing you need to do is to effectively market your video.
YouTube is the second most popular website in the world, second only to Google. It's also the most popular video hosting platform. However, just posting your video on YouTube without optimizing it is short sighted and negates all the work you put into making it. 
In this blog post, we are going to go over how to optimize your video for YouTube.
1) Use Proper Keywords In Tiles and Descriptions
YouTube works similar to Google in that you need to think about both of these websites as a library. Libraries properly organize and index their content in ways that are easy to find and relevant when being searched for. This is also referred to as Search Engine Optimization (SEO).
While SEO is a rather large topic, we are going to focus on one aspect of this, which is keyword research.
Keyword research consists of finding relevant and related short tail keywords and long tail keywords.
Short tail keywords are keywords that are one to no more than three words relevant to a topic. So for example, a short tail keyword can be video or video production or video production toronto.
Long tail keywords are keywords that are 3 or more words relevant to your topic. So for example, a long tail keyword can be video production company toronto or video production companies near me.
When trying to come up with a title or description for your video it's important that you write your title based on short tail and long tail keywords. The reason for this is that you want to be able to rank for those search queries.
You can find out target keywords by using Google Keyword Planner in your Google Adword account or by searching for the target keyword in the YouTube search bar and seeing what the suggested search queries are.
Once you have found your target keywords you need to develop the copy for your title and description.
Keep in mind that doing this properly will not result in immediate traffic. This is simply one part of a long equation.
2) Optimize Your Video Description
Your video description is very important because it helps YouTube understand what your video is about. Having said that, it's important to not make your description sound spammy.
While the official character limit for the video description is 1,000 characters, you should be using it to display relevant information for your viewer. Why? Because your audience is on YouTube to watch videos, not read an essay.
Also, keep in mind that only the first two to three lines of text are visible (about 100 characters) before the "show more" prompt. Only a small portion of your audience will click on show more so create an enticing reason for them to do so.
3) Add Closed Captions, Subtitles, And Transcription to Your Video 
While YouTube automatically generates closed captions transcriptions for your video, its important to remember that YouTube is not perfect. If you need an example of this then click on any video and select the captions button. It won't be long before you notice that the person speaking says one thing and YouTube's algorithm understands something completely different.
By adding your own transcription to your YouTube video, this allows you to completely control your closed captions and transcription.
Lastly, upload an SRT file to boost YouTube's search optimization by highlighting important keywords.
4) Make Sure To Say Your Keyword In Your Video
Having your target keywords in your video description without saying them in your video is going to harm your SEO. The reason for this is that YouTube's algorithm will notice that your video audio does not correlate with your video description copy. YouTube will not rank your video high because it would indicate that your content is not relevant to a target keyword audience.
A best practice is to determine your target keywords early on in the pre-production stage of the video production process. The pre-production stage of your video is when the video is being written, planned, and scheduled by the production team. A good video production company will ask you to provide them with your target keywords during the pre-production stage so that they can include them in the video scripting phase.
5) Add Hyperlinked Citations For Chapters Or Key Moments
Adding hyperlinked citations for chapters or key moments allows your audience to jump to parts of your video that they are interested in. This adds a safety measure to your video content so that your audience does not randomly jump ahead, missing vital information, or worse, clicking on another video due to lack of interest. This is known as "viewer-friendly" video content.
This also allows you to accumulate valuable information about the interest points of your audience. So for example, if the majority of your audience for a video about the video production process skipped to the section on post-production, then this tells you that there is a lot of interest in that topic. You can then create another video on that topic.
The best practices for hyperlinked citations are to:
Place them in the video description
List in chronological order
Add each new timestamp to a new line and write a label on that same line
Only add important timestamps. Don't go overboard.
6) Create Attention Grabbing Thumbnails
Next time you go on YouTube take a look at what videos with the highest number of views have in common. They all have attention grabbing thumbnails. Why is this? Because the first thing a viewer will notice is the thumbnail of a video before they read the title. Even the layout is made so you see the thumbnail first and title second. Remember humans eyes scan in a Z manner, left to right in our case.
You need to create a compelling story visually so make sure to communicate the video title and relevant images in the thumbnail so your viewer understands right away if the video is relevant to them.
Best practices for custom thumbnails are:
Use graphics for the titles and images
Use professional shots
Make it interesting and eye catching
Make sure it is well lit
Make sure there is a mix of text and images
Make sure the colors are complementary
7) Include Relevant Tags and Hashtags
Just like we discussed in keyword research, you need to do the same with tags and hashtags. Tags and hashtags allow you to inform the audience and YouTube's algorithm about what your video is related to. So going back to our example, for a Lapse Productions video we would include #videoproduction #toronto and so on.
This is identical to tags and hashtags on other social media platforms like Facebook, Instagram, LinkedIn, and Twitter.
Make sure to find hashtags that have low competition, medium competition, and high competition. The reason for this is that you want to be able to rank higher for low competition hashtags while at the same time competing with high competition hashtags.
Also, use relevant tags otherwise YouTube might penalize your video.
8) Add Cards To Promote Other Content
YouTube Cards allow you to cross-promote other content in your video. Cards show up as a bubble pops up in the top right corner of your video. This is a prompt for your viewer to check out more of your related content.
You can add a total of 5 cards in one video.
9) Add Call-To-Actions (CTA) to Your End Screen
A Call-To-Action is the last action prompt to your viewer. YouTube allows you to add CTAs to your video ending so you can promote your channel, prompt the viewer to click on another video or to check out playlists, your website, or your social media channels.
Use this feature to boost your conversion rates.
10) Add Your Video To A Playlist
One of the last things you should do is to add your video to a playlist. Adding your video to a playlist keeps your content organized and it also allows you to include that video in one of the call to action prompts or cards. It's also YouTube's top ranking factor because it keeps users on YouTube for much longer. Remember, YouTube wants its users to stay on it for as long as possible.
You can create a playlist by finding videos on your channel that have similar themes and then grouping them together.
Let's Create Your Video Today
If you're looking for top-notch quality, industry expertise, dependability, and competitive pricing, don't wait any longer. Contact us now for a quote and let's get started on your project.
Frequently Asked Questions
Read More From Our Video Blog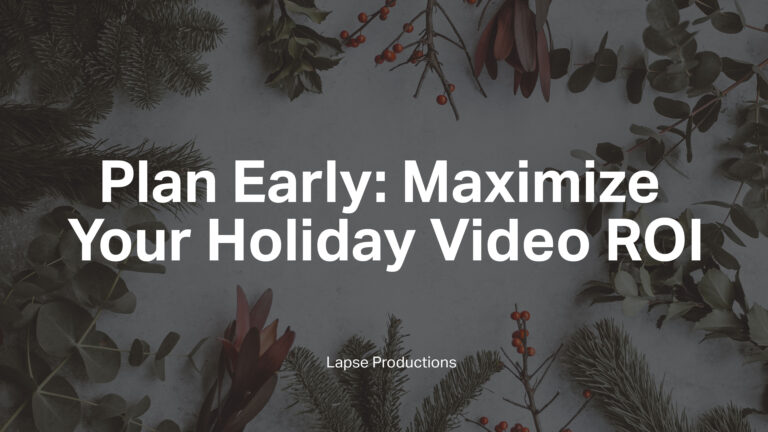 Maximize your holiday video campaigns with early planning. Dive into our three-tiered strategy, key dates,…