Elevating Creativity: Drone Video Production
Drone technology is revolutionizing the way we tell stories. From breathtaking aerial views of majestic landscapes to the dynamic portrayal of urban life, drones are opening doors to new creative possibilities. At Lapse Productions, we don't just capture footage from the sky; we create visual narratives that resonate, inspire, and leave lasting impressions. In this blog post, we'll explore how our expertise in drone video production is transforming the way we approach filmmaking, giving you an inside look at the technology, techniques, and commitment to excellence that set us apart. Whether you're a filmmaker, a business looking for unique promotional content, or simply curious about what drones can achieve, join us on this fascinating journey into the world of drone video production.
What is Drone Video Production?
Drone video production is all about capturing aerial footage that can add depth, grandeur, and a unique perspective to any visual narrative. Utilizing state-of-the-art drones equipped with high-definition cameras, we at Lapse Productions are able to bring stories to life in ways previously unimaginable.
Why Choose Drone Videography?
Unmatched Perspectives: Drone footage offers a bird's-eye view, capturing sweeping landscapes, panoramic cityscapes, and intricate architectural details.
Enhanced Storytelling: The ability to move in three-dimensional space adds a dynamic layer to storytelling, creating a more immersive experience for viewers.
Cost-Effective Solutions: Compared to traditional aerial methods like helicopters, drones provide a more accessible and budget-friendly way to achieve top-tier aerial shots.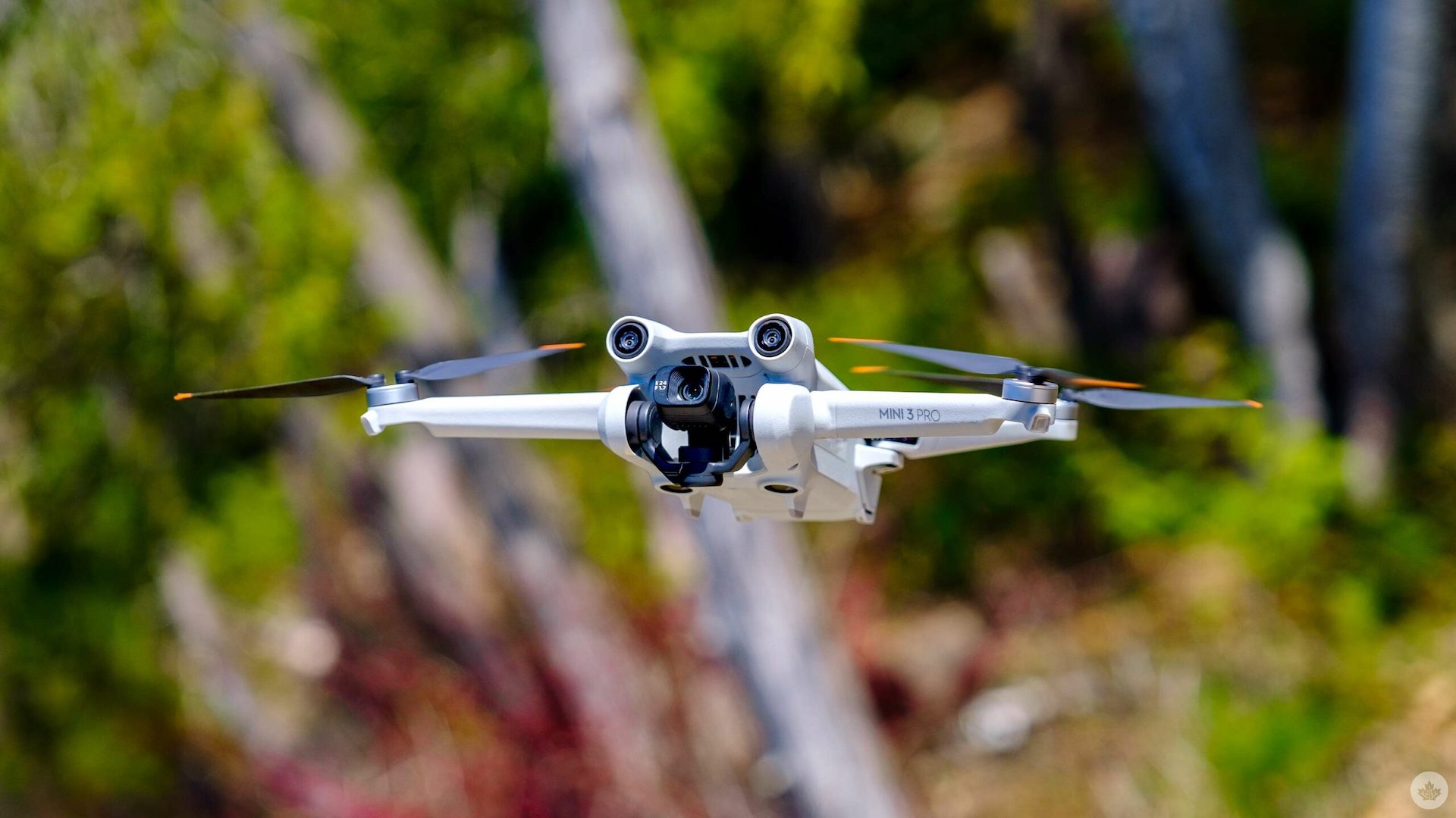 Compliance with Canadian Drone Regulations
Navigating the skies with our drones is an exciting journey, but one that we take with the utmost seriousness and responsibility. Here's how we ensure safe and compliant drone video production:
Legal Requirements: Our drone pilots are certified, and all our drones (weighing more than 250 grams) are registered as per Transport Canada regulations. From adhering to the Criminal Code to provincial trespass acts and respecting privacy rights, we diligently follow all related laws.
Flying Safely: From pre-flight preparations to safe flying practices, our adherence to safety includes maintaining visual-line-of-sight (VLOS) with the drone, flying below 122 meters (400 feet), and staying away from airports and other restricted areas.
Penalties: We strive to avoid fines and maintain our reputation by adhering to regulations diligently.
Categories of Drone Operation in Canada
The regulations and categories for drone operations in Canada are detailed and varied. Here's a summary:
Basic Operations: Includes flying in uncontrolled airspace and maintaining specific distances from bystanders and certified airports or heliports.
Advanced Operations: Covers aspects like flying in controlled airspace or closer to people and certain facilities.
Micro-drones (under 250 g): These don't need to be registered but must be operated safely.
Drones Over 25 kg or Special Permissions: Special permission from Transport Canada is required.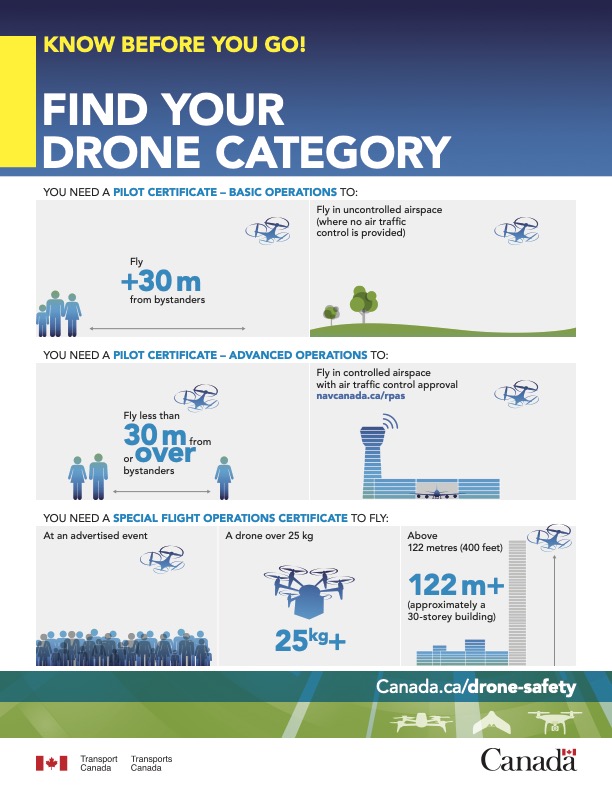 Our Commitment to Professional Licensing
Lapse Productions recognizes that professional licensing is essential. Our in-house core team of drone operators holds the Basic Drone Pilot License, allowing us to conduct a wide range of drone operations. For specialized advanced operations, we bring in highly skilled operators with the Advanced Drone Pilot License. This blend of basic and advanced licensing within our team offers flexibility and ensures that we have the right expertise for each project, regardless of complexity.
Customized Drone Video Solutions
At Lapse Productions, we understand that every project is unique, requiring distinct visual aesthetics, technical capabilities, and storytelling techniques. That's why we offer tailored drone video solutions that align perfectly with your individual goals and creative vision.
Drones Tailored to Your Needs
For Basic Operations: DJI Mini 3 Pro
Our go-to choice for basic operations is the DJI Mini 3 Pro. Compact, lightweight, and packed with features, this drone provides exceptional flexibility and quality. It's ideal for capturing breathtaking landscapes, following dynamic action, or adding an artistic touch to your content. From real estate walkthroughs to scenic outdoor shoots, the DJI Mini 3 Pro offers the perfect balance of simplicity and sophistication.
For Advanced Operations: DJI Mavic 3 Pro
When it comes to more complex and demanding projects, we rely on the DJI Mavic 3 Pro. Known for its superior imaging capabilities, robust flight performance, and advanced safety features, this drone delivers top-tier results. Whether it's navigating through tight urban environments, flying close to architectural marvels, or capturing high-intensity sequences, the DJI Mavic 3 Pro stands ready to elevate your project to new heights.
Collaborative Planning
We collaborate closely with our clients to understand their specific needs and desires. By selecting the right drone, lenses, flight paths, and post-production techniques, we craft a personalized approach that truly resonates with your audience. Whether you're aiming for a subtle, poetic ambiance or a vibrant, high-energy vibe, we have the expertise and tools to make it happen.
Adaptability Across Various Industries
Our customized solutions cater to a wide array of industries, including advertising, tourism, real estate, manufacturing, entertainment, and more. We are always open to exploring new territories and embracing creative challenges.
Conclusion
At Lapse Productions, drone video production is not just about technology; it's about crafting visual narratives that leave a lasting impact. Our expertise in handling drone videography translates into creative solutions that bring unique angles, stunning imagery, and unparalleled storytelling to the table. If you're looking to elevate your content and captivate your audience, our drone services could be the missing piece. Whether it's for a commercial, a documentary, or anything in between, our team is ready to transform your ideas into extraordinary visual experiences. Reach out to us today, and let's explore how our drone capabilities can make your next project not just different but extraordinary.
Let's Create Your Video Today
If you're looking for top-notch quality, industry expertise, dependability, and competitive pricing, don't wait any longer. Contact us now for a quote and let's get started on your project.
Frequently Asked Questions