Top Video Studio Spaces in Toronto for Your Next Video Production
Toronto is not just Canada's financial and cultural hub; it's also a hotbed for video production, teeming with opportunities for both marketers and seasoned video professionals. Whether you're planning a corporate video, a commercial, or even a short film, the right studio space can make or break your project. Understanding the unique needs of marketers and video production experts alike, we at Lapse Productions have compiled this comprehensive guide to the top studio spaces in Toronto. Read on to discover the perfect backdrop for your next production venture.
1. 2D House
Location: Etobicoke
Features: LED Volumes, Production Kitchens, On-Site Equipment, High-Speed Connectivity
2D House Studios offers three specialized spaces, including Toronto's first LED Volumes, The Mirage, and two production kitchens. Coupled with on-site equipment and high-speed internet, it's a one-stop-shop for diverse production needs. Additional amenities include ample parking, a dedicated lunch area, and eco-friendly water services. Scissor lifts are available at no extra cost.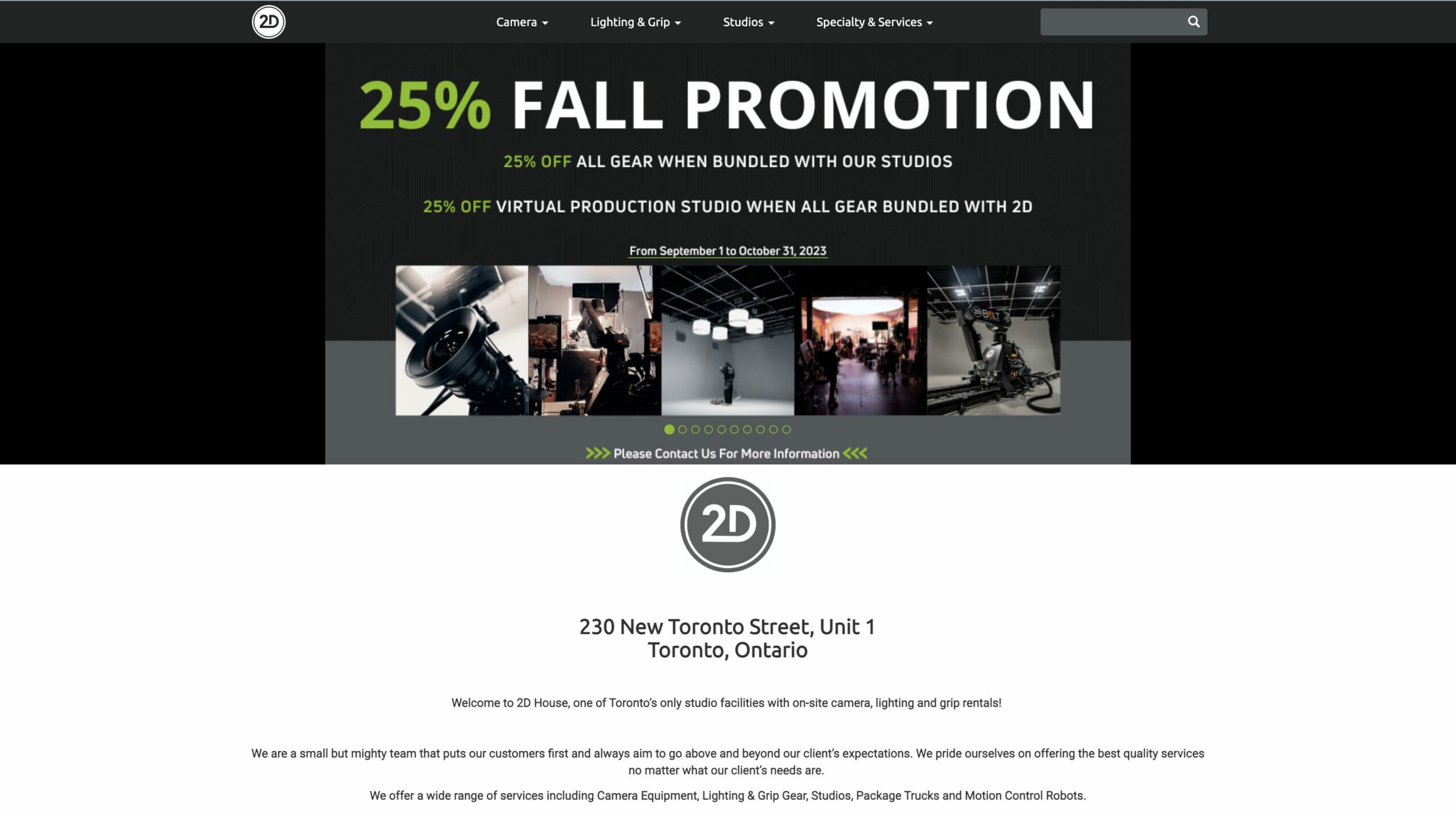 2. Audio Process
Location: Central Toronto
Features: 1,200 square foot RGB Cyclorama studio, Camera, Lighting and Grip add-ons, Wardrobe Room, Hair & Makeup Room, Customizable Lifx LED lights, Barco G60-W8 1080p projectors with iPad control, Semi-Private Washroom, Kitchenette, Dedicated Parking Lot
Best For: Corporate Videos, Commercials, Audio-Visual Projects
Audio Process is more than just an audio-centric studio; it's a comprehensive facility equipped for a wide range of video production needs. With a spacious 1,200 square foot RGB Cyclorama studio and a plethora of camera, lighting, and grip add-ons, this studio is well-suited for corporate videos and commercials that require top-notch visual and audio elements. Additional amenities like a wardrobe room, hair & makeup room, and customizable Lifx LED lights ensure that every aspect of your production is taken care of. The studio even offers advanced tech features like Barco G60-W8 1080p projectors with iPad control, making it a versatile choice for modern, tech-savvy productions.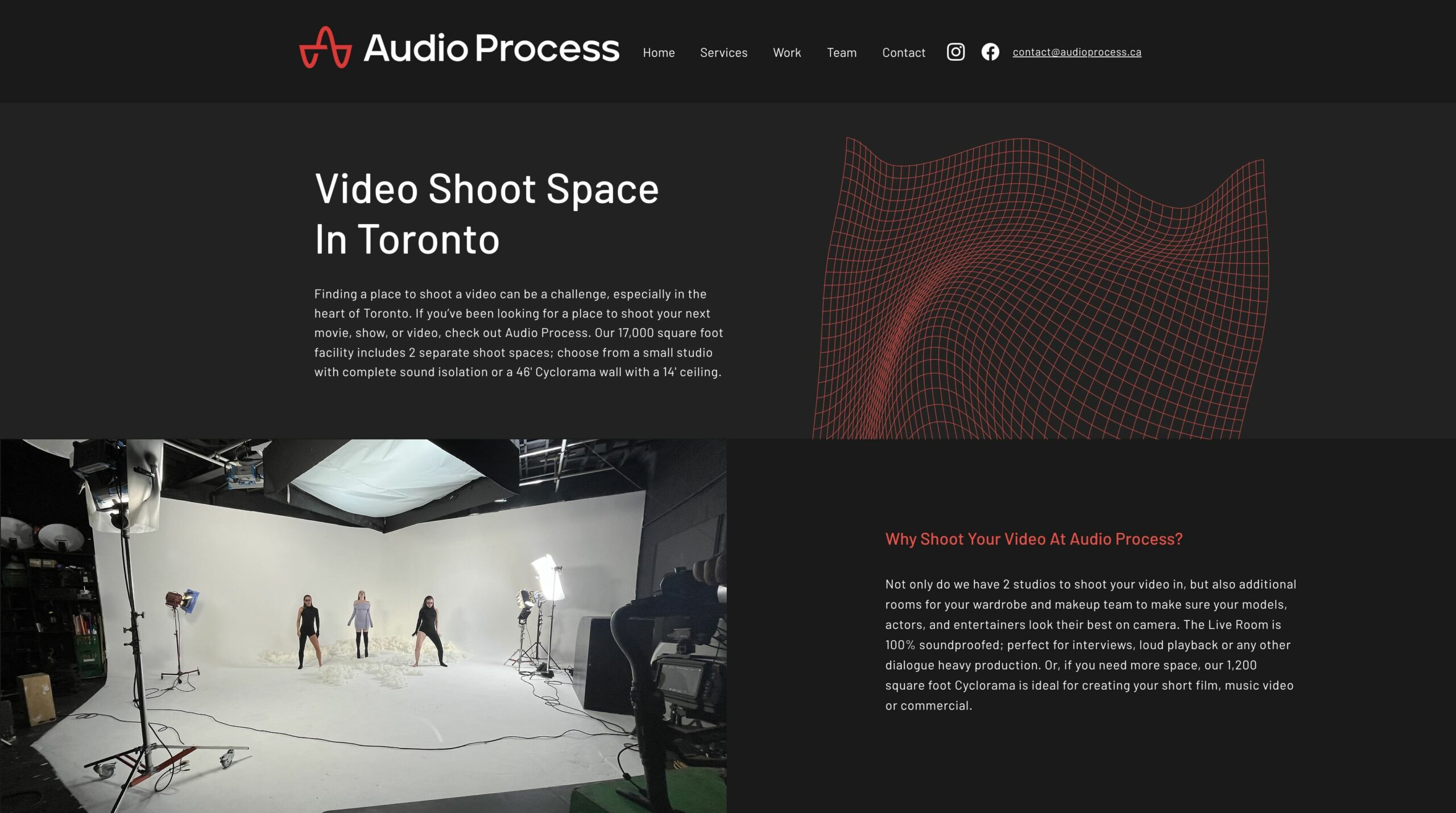 3. Pie in the Sky Studios
Location: Downtown Toronto
Features: Green Screen, Soundproofing, High Ceilings
Pie in the Sky Studios is a versatile space that offers state-of-the-art facilities. Their green screen setup is perfect for creating high-quality corporate videos that require special effects.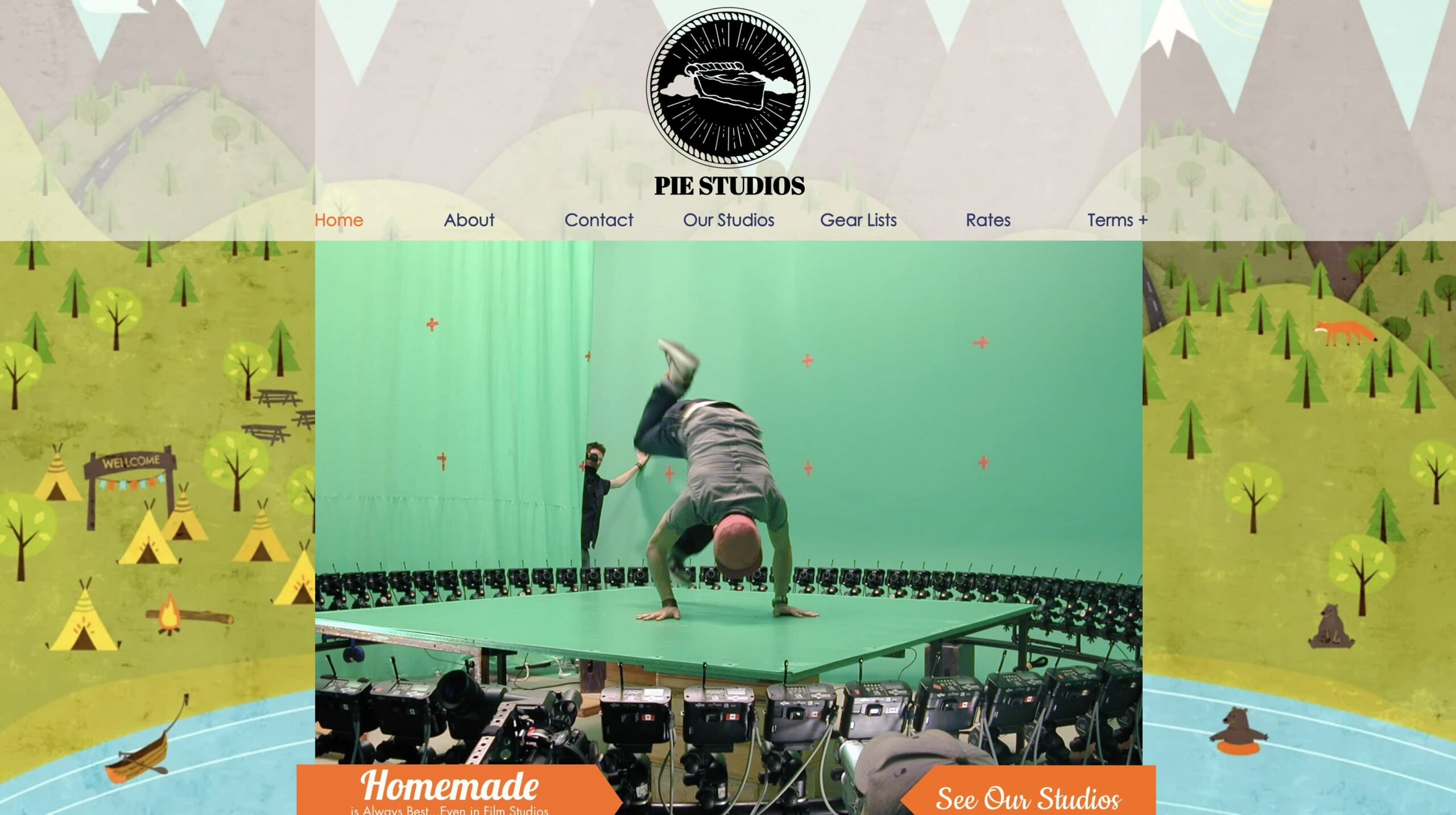 4. AstroLab Studios
Location: Downtown Toronto
Features: Multiple Sets, Lighting Equipment, Post-Production Suites
AstroLab Studios is a one-stop-shop for video production. With multiple sets and post-production facilities, it's an ideal choice for those looking to handle everything from shooting to editing in one place.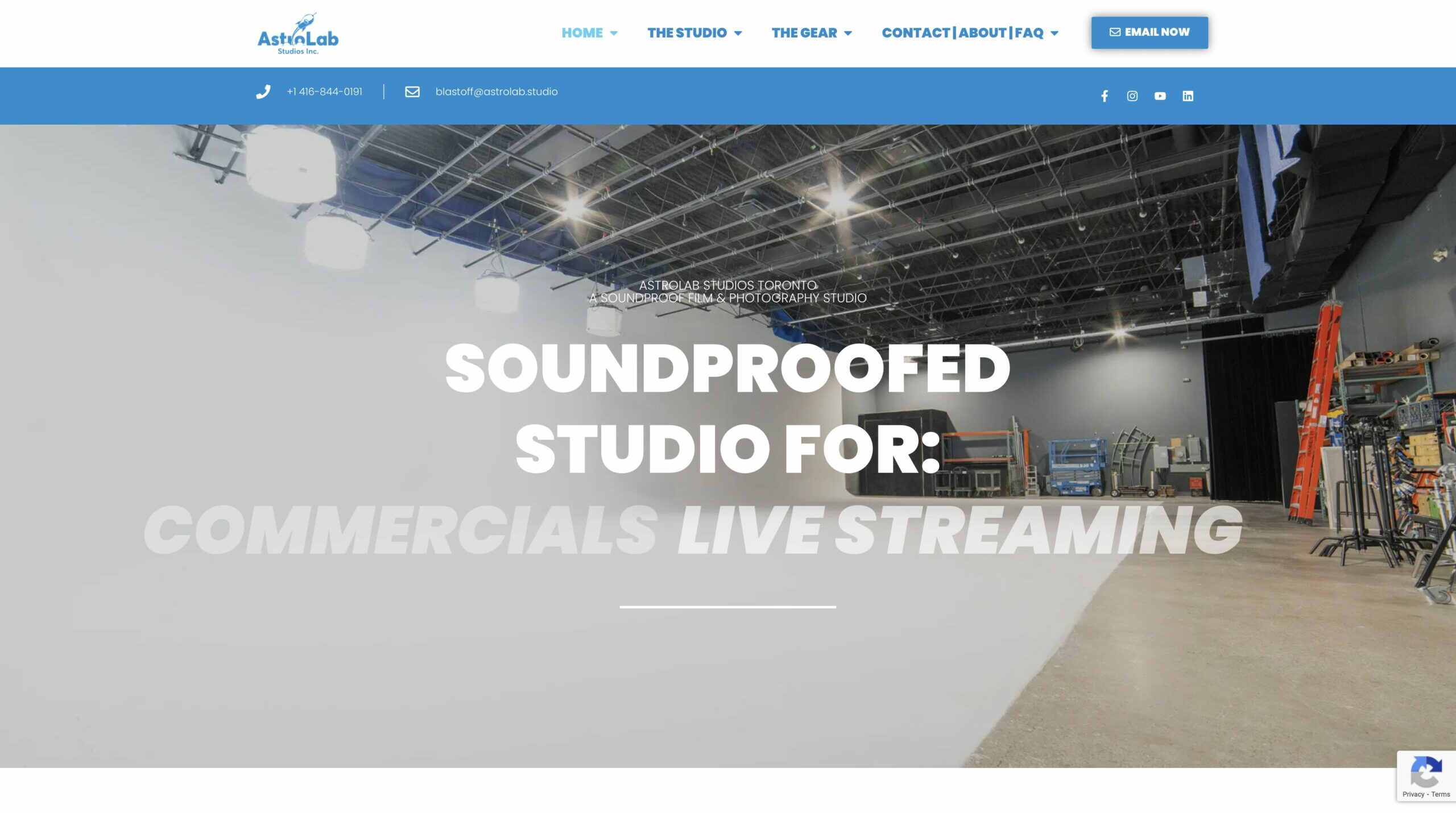 5. Giggster
Location: Various Locations in Toronto
Features: Versatile Spaces, Easy Booking, Customizable Settings
Giggster offers a unique approach to studio spaces by providing a wide range of versatile locations across Toronto. With an easy booking process and customizable settings, it's ideal for smaller shoots, pop-up events, or indie productions. The platform allows you to filter by amenities, location, and style, making it easy to find the perfect space for your specific needs.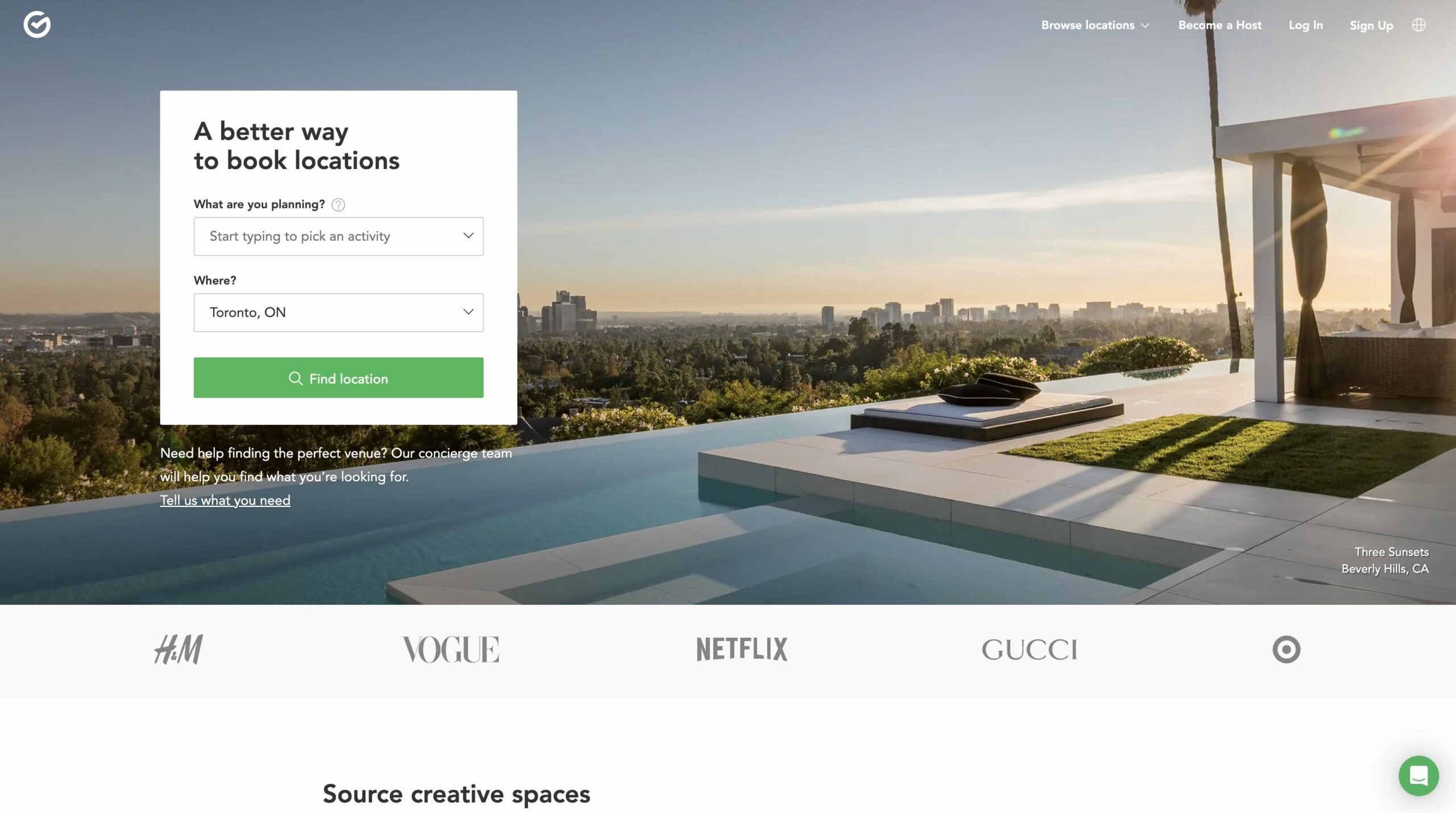 6. Airbnb
Location: Various Locations in Toronto
Features: Unique Spaces, Flexible Booking, Peer Reviews
Airbnb isn't just for travelers; it's also a resource for finding unique shooting locations in Toronto. With flexible booking options and peer reviews, it's a reliable choice for smaller, budget-friendly productions that require authentic settings. Whether you're looking for a cozy apartment or a spacious loft, Airbnb offers a range of options to fit your production needs.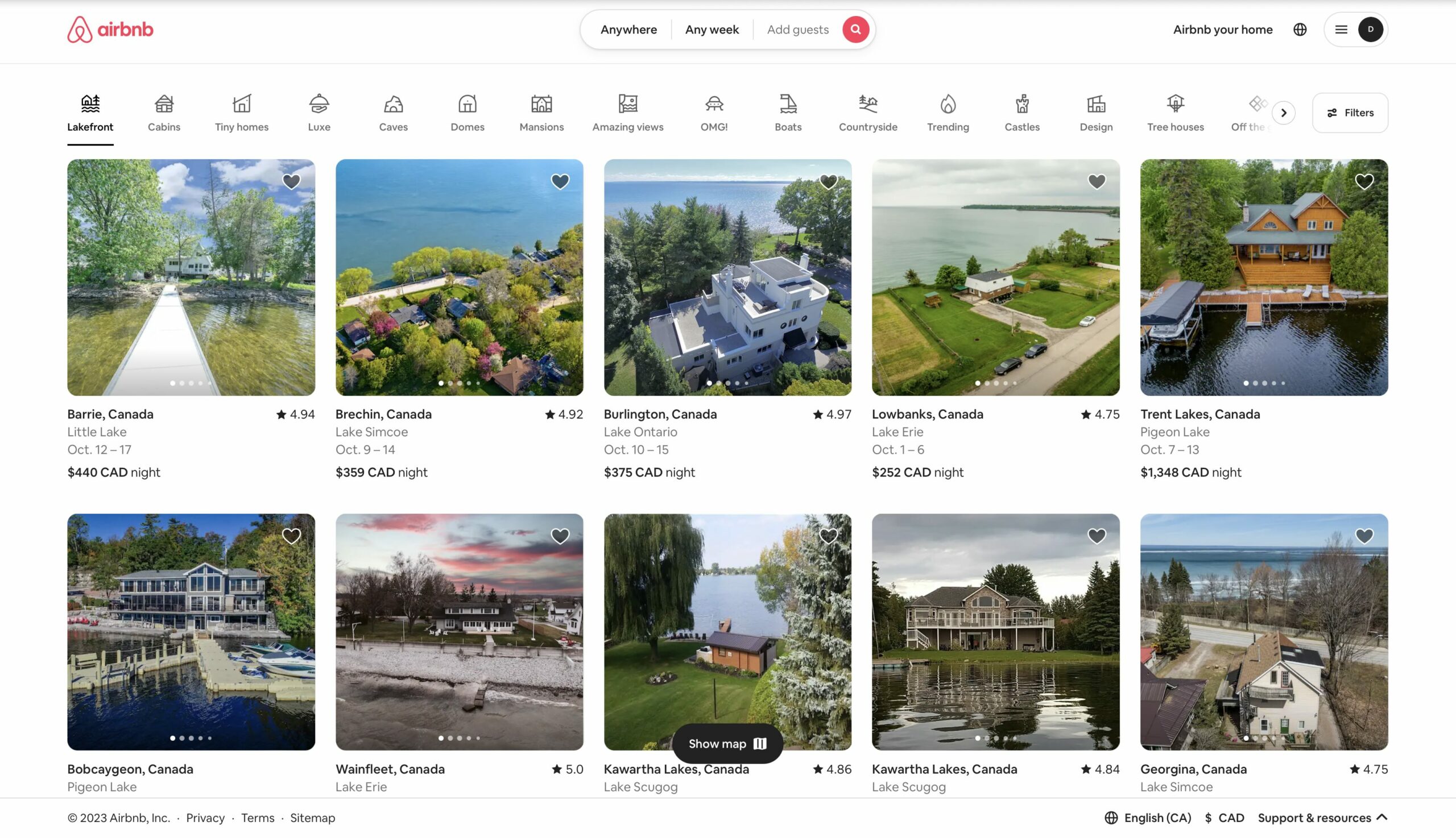 Conclusion
Toronto offers a plethora of studio spaces that cater to various needs, from corporate video productions to feature films. The key is to identify what specific features and amenities will best serve your project. By choosing the right studio space, you not only ensure a smoother production process but also a final product that meets your vision and standards.
If you're a marketer or a video production professional looking for expert guidance on your next project, don't hesitate to reach out to us at Lapse Productions. With years of experience in the industry, we can help you navigate the complexities of video production, from selecting the ideal studio space to executing a flawless shoot.
Let's Create Your Video Today
If you're looking for top-notch quality, industry expertise, dependability, and competitive pricing, don't wait any longer. Contact us now for a quote and let's get started on your project.
Frequently Asked Questions