Video Production Agency vs Freelance Videographer
Creating video content for your brand can be a creative and challenging experience.
You are often left with two choices: hire a video production company or hire a freelance videographer. 
This might seem like a simple choice but not when you factor in that the final video deliverable is the most important part of the video process.
In this article we will discuss the difference between hiring a video production company vs a freelance videographer. We will examine what each one is, the benefits and downsides, and pricing differences.
What is a Video Production Agency?
A Video Production Agency is a business that focuses on creating video content for B2B, B2C or agencies.
A video agency will have the capability of focusing on multiple aspects related to video production.
They have usually been in business for a multitude of years and have a proven track record for quality work.
Benefits of Hiring a Video Production Agency?
There are 5 benefits to hiring a Video Production Agency. They are:
Reliable and Accountable

Video Agencies are brick and mortar businesses that survive because of their ability to be reliable and accountable for their work. They are businesses that cannot function if their output or reception is poor.

Produce High Quality Results

To be able to grow, a business needs to deliver quality results consistently.

Experts

Expertise is one of the factors that separates freelancers from video agencies.

Versatile

Video Production Agencies will be able to bring on the necessary crew members to be able to create the clients vision.

Provide Good Experiences

Creating a good video is also about creating a good experience for the client. At Lapse Productions we want to develop a long-term collaborative relationship with our clients so we prioritize good experiences in our work.
Downsides of Hiring a Video Production Agency?
There are 2 downsides of hiring a Video Production Agency. They are:
Higher costs

Video Production Agencies that are established will charge a high rate to create video content. Bigger businesses that have higher overhead will need to reflect overhead costs in their pricing models.

Some may offer subpar quality

Being in business for a long time or having a long list of clients does not always mean that a business is innovating or keeping up with modern advancements. The same can be said for video production companies.
Prospective clients will need to do due diligence to find the best video production agency for their needs.
Average Price of a Video Production Agency
Video Production Agencies in Toronto come in all pricing ranges. From $1,000 to $10,000 you will be able to find a company that is competitively priced for your video project.
For example, at Lapse Productions our pricing packages start at $1,500 and average in the $3,500 to $5,000 range.
What is a Freelance Videographer?
A freelance videographer is an independent contractor that works as a one-man-band filmmaker.
Freelance videographers are often individuals who have just entered the video industry (1-5 years). They often leave the industry within the 5 year mark or they begin their own companies, go work at other companies, or remain independent.
Videographers wear many different hats. They are primarily videographers, which means that they are cinematographers, but they may also be producers, and editors. On set they may also have novice experience with audio gear and directing.
Videographers are often hired by video production companies, marketing, ad agencies, or businesses (usually small to medium sized B2B or B2C).
Many owners of video production companies started out as freelancer videographers before they expanded their business.
Benefits of Hiring A Freelance Videographer?
There are two benefits to hiring a freelance videographer: 1) They will be able to work on small budget projects and 2) they might also be talented giving you great value for money.
However, this comes with a big disclaimer.
Downside of hiring a Freelance Videographer?
There are 3 major downsides to hiring a freelancer videographer:
Lack of quality control

With knowledge of the video production industry you will not be able to determine their skill level. Even if their reels or videos might seem good or even great, there may be red flags that you are not noticing in the work because you are not a video producer. Also, portfolio pieces do not mean that they will be able to produce your specific type of video properly.

Lack of reliability and accountability

Freelance videographers are not a brick and mortar business. Some might not even have a website. If they do a poor job on your project they can easily move on to other projects without ramifications to their business.
Since they have not been in business for a long time then they will not be as reliable as a video production company because of their limited track record.
Freelancers that begin to generate a lot of freelance gigs will begin to neglect other clients due to lack of time. This results in poor communication and experience.

Limited skill set

As we mentioned before, videographers wear many hats but just because they are able to do many different jobs does not mean they will be good at each one.
Piling on too many separate jobs onto one person will also result in incorrect work in some areas due to too many roles being placed on one person. For example, if the videographer needs to set up the lights, camera, audio gear, then also direct the interviewee and ask them questions, it will be hard for him or her to monitor the audio levels or camera focus.
Some videographers may be great cinematographers but they may not be good directors, which will result in a poor experience and poor communication while on set. Some might also not be good editors which will result in a poor quality video.
Average Price of a Freelance Videographer?
Freelancer videographers on average range from $300 to $1,250 depending on their skill level, equipment list, and time. Videographers on the low end of that pricing range will be novices that have just entered the video industry. Whereas videographers on the higher end will be those that have been in the industry for over 5 years and have built up a good portfolio along with a roster of clients that send them work frequently.
Pricing Difference Between Video Production Agency and Freelance Videographer?
There is not a vast pricing difference between a Video Production Agency and a Freelance Videographer because once you factor in that you will need to essentially take on the role of a video producer and hire all the freelancers needed (videographer, editor, animator, make up, etc), you will actually be very close to the same pricing point of a regular video production company. At least with regards to pricing. Quality-wise you will still be off by a lot.
If you liked this blog post then please share it!
Read More From Our Video Blog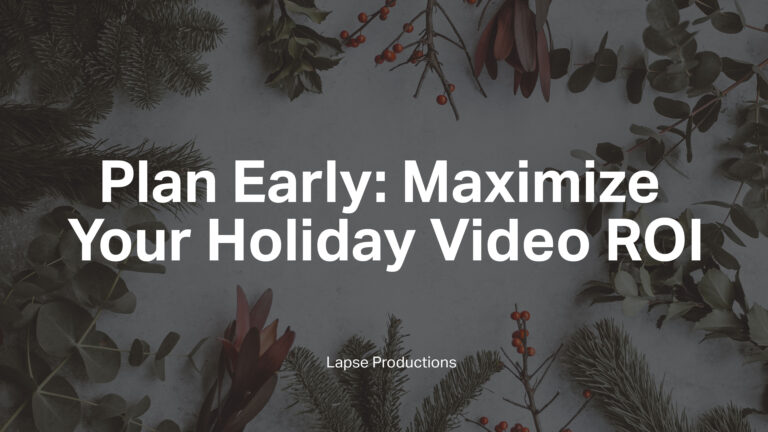 Maximize your holiday video campaigns with early planning. Dive into our three-tiered strategy, key dates,…