Providing Strategic Video (ft. V Strategies Inc) | Creatives Grab Coffee 24
Welcome to Creatives Grab Coffee, a podcast on the business of video production, hosted by Dario Nouri and Kyrill Lazarov from Lapse Productions.
Our goal is to make the video production industry smaller by creating a sense of community. Whether you are a creative, an entrepreneur, or a professional there is knowledge for you to learn. Join us as we have industry professionals from around the world come on the show and share their insights on the industry and business. Welcome to Creatives Grab Coffee. Welcome to Video Production.
This weeks guest is Jeff Bradshaw from V Strategies Inc. V Strategies Inc is a Calgary (Alberta, Canada) based Video Production Company that has been operating for over 25 years. They provide their clients with a combination of outstanding creative, innovative solutions, first class service and a results driven video product.
https://podcasts.apple.com/ca/podcast/providing-strategic-video-ft-v-strategies-inc-creatives/id1530864140?i=1000559477332
Timestamps:
00:00-11:06 – Intros
11:07-15:27 – Shift in production companies approach clients
15:28-20:43 – walking the fine line between being a production company and a marketing agency
20:44-26:57 – Clients that want to be cheap / Live-streaming
26:58-29:32 – V Strategies target market
29:33-37:15 – Video Sales Process
37:16-49:17 – Team size / The transition production owners will need to make as their business evolves
49:18-54:22 –  Challenges faced
54:23-  – things you would do differently if you could go back in time / Outro
Social Media
Produced by LAPSE PRODUCTIONS – www.LapseProductions.com
Transcript
00:00:00:00 – 00:00:06:15
Kyrill Lazarov
Welcome everybody to Creatives Grab Coffee. Today, we're joined by Jeff from V Strategies Inc based out of Calgary, Ontario.
00:00:07:11 – 00:00:09:15
Dario Nouri
Ontario? What Ontario Kyrill
00:00:10:04 – 00:00:15:05
Kyrill Lazarov
Calgary Ontario. Take one is usually my best one and then take two. It's like, what?
00:00:15:08 – 00:00:17:03
Dario Nouri
It's just all downhill from here.
00:00:18:11 – 00:00:19:13
Jeff Bradshaw
Dario threw you off.
00:00:20:03 – 00:00:23:00
Kyrill Lazarov
Yeah. It's the pressure. You know, the pressure is on this thing.
00:00:23:02 – 00:00:24:22
Dario Nouri
And by the way, I'm not going to edit this out.
00:00:25:05 – 00:00:36:01
Kyrill Lazarov
I love it. Anyways, welcome everybody to creatives grab coffee. We're joined by Jeff. Oh, my God. Wow. Dario really messed me up with this. What is this?
00:00:36:21 – 00:00:39:20
Jeff Bradshaw
Don't you just love this? We're usually on the other side of the camera.
00:00:39:24 – 00:00:40:24
Dario Nouri
And it's like, it's easy.
00:00:40:24 – 00:00:43:23
Jeff Bradshaw
Don't worry. Just do the video until you. Yeah, I'm with you.
00:00:44:12 – 00:00:52:14
Dario Nouri
Like I said, I feel this is all we're going straight into. Like, he's from Calgary, Ontario at this point, we're continuing.
00:00:52:16 – 00:01:01:03
Kyrill Lazarov
Calgary, Ontario. That's what it is. All right, Jeff, how about you give us a little bit of a background on who you are? Who has these strategies and the type of work that you guys do?
00:01:02:04 – 00:01:25:04
Jeff Bradshaw
Yeah, absolutely. Guys, thanks for having me on. I mean, so V strategies. I started the company going on 26 years ago. I used to be with CTB, a certain company, and I sold advertising there, always had an entrepreneurial bug. So we've been a business for just coming up to 26 years, do full service video production. You know, we kind of we changed our name.
00:01:25:04 – 00:01:48:00
Jeff Bradshaw
We used to be Zoom Communications and we started, we changed it to be Strategy's about eight, nine years ago. And the reason for the strategies is really about visual strategies. And we just found that it was more about more than just producing videos. It was about creating strategies for clients, which, you know, I know you guys are doing, a lot of people are doing these days, so there's more to it than just producing a video and, and giving it back to your clients.
00:01:48:00 – 00:01:58:16
Jeff Bradshaw
So yeah, we do a lot of corporate work. We do TV commercials. We used to do a bunch of broadcast work, but these days is primarily corporate stuff for online distribution.
00:01:59:08 – 00:02:04:01
Dario Nouri
So be honest with us. Did you sell the name to Zoom as our hard?
00:02:05:12 – 00:02:21:21
Jeff Bradshaw
No. You know, funny story with that, is it? So we used to be Zoom Communications. Ross, you used to be a Toronto company called Zoom Media, which were the bathroom ad guys. So they did the urinal ads. And there was a just that worked over there in Calgary. So we would always get these ads and people wanted to put ads up over top of urinals.
00:02:21:21 – 00:02:40:07
Jeff Bradshaw
And I was like, No, that's not us. We're not in the crapper yet. And so we would swap phone numbers and back and forth anyways. It was just kind of that. And that was just the change in the marketplace that we just found. The timing was right. So it changed to be from Zoom. But you're right, I should have kept the rights to it because or I should have came up with a conference solution like this.
00:02:40:10 – 00:02:43:04
Jeff Bradshaw
It would have been more financially beneficial.
00:02:43:19 – 00:02:46:16
Dario Nouri
You should have just held on to the domain name and then sold it to them.
00:02:47:22 – 00:02:48:12
Jeff Bradshaw
To get it.
00:02:49:02 – 00:03:07:13
Kyrill Lazarov
You know, I've always been what I've always been curious is like all these ads that are in the bathrooms these days, who actually makes these ads? You know, it's like it was like in the back of my mind one time I was thinking to myself, is there like a company that specializes in this? Is this like a niche that all they do is bathroom video bathroom?
00:03:07:14 – 00:03:15:16
Jeff Bradshaw
Because I know it's a big market. It's surprisingly the Zoom media. I think they end up getting sold. I'm not sure if even been around, but I mean, yeah, it's a big business.
00:03:16:08 – 00:03:20:03
Dario Nouri
Well, look, everyone needs a bathroom. That's a lot of years. I mean, at the end of the day.
00:03:20:16 – 00:03:23:16
Kyrill Lazarov
A lot of a lot of foot traffic as they go through their you know.
00:03:24:08 – 00:03:27:18
Dario Nouri
And you have to watch it. What else? You can't skip the edge, right? That's right.
00:03:28:00 – 00:03:29:01
Kyrill Lazarov
Yeah. You know, what are you going to do?
00:03:29:02 – 00:03:35:06
Dario Nouri
Like you got their attention for exactly one minute at the most. Yeah.
00:03:35:06 – 00:03:39:18
Kyrill Lazarov
You have you have no chance of skipping that. That's actually brilliant when you think about it.
00:03:40:22 – 00:03:50:21
Dario Nouri
It's like most TV ads where it's like, if you're reading this ad, you're you're you're stuck in traffic. But you're right. You're reading this right in the washroom.
00:03:51:17 – 00:03:52:20
Jeff Bradshaw
Yeah, it works.
00:03:53:23 – 00:03:54:11
Kyrill Lazarov
Oh, but.
00:03:54:23 – 00:04:03:07
Dario Nouri
So just 20, 26 years is like almost a quarter of a century. That's a long time, right? You know what it is?
00:04:03:07 – 00:04:23:19
Jeff Bradshaw
It's crazy amount of time. And it's funny because a lot of the young folks that work with us and work for us and everything I mean, I started back in the day when CTV was still reel to reel editing the know the hardware that we used was crazy big, heavy cameras. You know, the first camera we bought was a beta cam speed camera.
00:04:23:19 – 00:04:46:08
Jeff Bradshaw
I think we paid about 90,000 for the camera, another 40,000 for the lens and as we all know, our, our phones these days, record footage, that's 100 times better safe than we are. Pretty static. So we bought was an avid edit suite and I think we paid $300,000 to get that edit suite put in for an editing suite.
00:04:46:18 – 00:04:47:04
Jeff Bradshaw
Yeah.
00:04:47:19 – 00:04:48:23
Dario Nouri
We we still.
00:04:48:23 – 00:04:56:12
Jeff Bradshaw
Have a deck downstairs, an HD cam deck that I think we paid $90,000 for. That is totally useless.
00:04:58:20 – 00:04:59:09
Jeff Bradshaw
You still.
00:04:59:09 – 00:05:01:05
Kyrill Lazarov
Have it. You spent the money and.
00:05:03:06 – 00:05:05:10
Jeff Bradshaw
Got nothing to do with it. I'll put it into a museum.
00:05:07:21 – 00:05:10:04
Kyrill Lazarov
That on your neck for that I wonder.
00:05:10:04 – 00:05:19:17
Jeff Bradshaw
Tried. I've tried eBay, I can't even get any money on eBay for it, so I figured I might as well just keep it so nice. I mean, I think it's it's interesting how it's changed over the years for sure. I've seen a lot of changes.
00:05:20:14 – 00:05:38:03
Dario Nouri
I can only imagine we actually a funny story about, you know, buying expensive stuff. They look back on now and it's pretty much worthless. We had the same kind of thing happened with three 60 video. So we got into it just before it became hyped up or it was in the process of becoming hyped up just before the.
00:05:38:03 – 00:05:41:22
Kyrill Lazarov
Early 2016. It was it was right in early 2016.
00:05:42:03 – 00:05:51:12
Dario Nouri
We blew like at the time it was like 15 k, which doesn't sound like much compared to your $300,000. But for us at the time starting out, that was a lot of money and.
00:05:51:17 – 00:06:09:16
Kyrill Lazarov
Percentage wise, yes, to be honest, you know, like if you're making like 50 to 100 K a year, 300,000 is what an extra what 66% on top of that. Whereas like with us we were making only like a certain amount where like 15,000 was a huge dent in our, in our bank account.
00:06:10:11 – 00:06:26:09
Dario Nouri
Oops I thought you know, and it's, it's so great. I was going to say I remember going, I still remember going to this and saying yeah, so we want to get the six GoPro hero for us and paying the 4000 bucks for those. I was like, whoa, this this one stings a little.
00:06:27:06 – 00:06:29:09
Kyrill Lazarov
I knew we were just out of school at that point.
00:06:29:11 – 00:06:31:19
Dario Nouri
So you know what though?
00:06:31:19 – 00:06:50:19
Jeff Bradshaw
It's interesting though, because that's the funny thing about these days and it's, you know, maybe some of the talk about is you guys have an agenda here. So I'll, I'll but you know, when we got into the business, when I got into the business, there was only three, four bigger production companies. And the reason being is because the technology like it was so expensive.
00:06:50:19 – 00:07:20:23
Jeff Bradshaw
And so, you know, we took loans out and we we took a big risk in investing the money into the equipment. But that gave us an edge because not everybody could get into the business. So as the technology started to change and as we were going to the NAB shows in Vegas every year and we started to see all this DSL, our technology, I remember we bought the first versions of the GoPros and we're going, oh my God, like we're done because everybody can buy this equipment and we totally out of the business because our advantage of having this expensive equipment had kind of been lost.
00:07:21:22 – 00:07:45:21
Jeff Bradshaw
And the interesting thing about it is what we found is that I remember this real quick story, but I remember watching a photographer who was a Sports Illustrated swimsuit model photographer, and this guy had these great big thick glasses, and he would shoot all of the photos on this little Instamatic. 35 millimeter camera. And the whole story was about everybody else has these great big cameras and great big lenses, and how could this guy be a professional photographer?
00:07:45:21 – 00:08:07:11
Jeff Bradshaw
Because he had such bad eyes. And he says it's not the equipment, it's who's behind the equipment. So you can give anybody a camera. It doesn't mean they can produce great quality video. And so that was one of the things that kind of I remind myself when the technology got cheap, it didn't matter. You still had to have the people like the three of us behind the technology to make it work.
00:08:07:11 – 00:08:10:11
Jeff Bradshaw
So it just an interesting transition over the years.
00:08:11:00 – 00:08:39:14
Kyrill Lazarov
Yeah, it went basically from the value of having the equipment was the big selling factor for a lot of companies to it becoming how are you creating the content? Like what is the content that you're filming at this point? Because as you said, anyone can buy a camera these days and just kind of jump right into it. But it's, it's the experience and and the strategy mania that goes behind that goes into the videos that really makes the quality what it is these days.
00:08:39:15 – 00:08:58:06
Kyrill Lazarov
Right. How did you find How did you cope with that evolution? Because like for us, we basically just kind of like grew with the growth, whereas you went from like the the the previous type of work that you did and then you had to evolve it over time. So how was that how was that transition for you?
00:08:59:18 – 00:09:00:19
Dario Nouri
Well, you know, it's.
00:09:01:01 – 00:09:07:16
Jeff Bradshaw
It's one of those things. I've always you know, I'm a little bit older than you guys. I'm into my fifties and a lot of.
00:09:07:16 – 00:09:09:10
Dario Nouri
People have of this.
00:09:09:23 – 00:09:28:09
Jeff Bradshaw
Mentality of, oh, I don't understand that new technology or it's too confusing. And I remember even guys going, you know what, I'm not going to stop shooting film these HD cameras. It's DSL. Our crap won't catch on I've never thought of it that way. I'm constantly curious about new technology and what's coming out, even though I'm maybe an older guy.
00:09:29:08 – 00:09:51:14
Jeff Bradshaw
I think that to succeed you got to stay curious and learn about the new technology so that you can stay current. And that's what we did. We you know, I learned all the new technology we stayed up with it. You know, I used to be a partner in a company here in Calgary that's doing great. Mammoth excited. They do VR and air stuff.
00:09:53:01 – 00:10:13:10
Jeff Bradshaw
I learned the technology. So that's how we adapt. We just we we were great. Let's take these data large. Let's take these GoPros. Let's learn how we can use them, how we can adapt. Them, and use our old school knowledge of storytelling and distribution of content with these new tools that we have so we've made lots of mistakes.
00:10:13:22 – 00:10:47:15
Jeff Bradshaw
You know, you guys said you put some money into the three 60 stuff. I mean I, I dumped a ton of money into streaming. We started the streaming company in 1999 called Jet Stream Digital Media. This is, and most people still had 56 dial up modems. None of this high speed crap you know, and we were trying to send video signals over these 56 dial up modems and that's how like a guy like Mark Cuban got his start right with Broadcast.com, he got into the streaming business, he sold out at a really good time and obviously now a billionaire.
00:10:47:15 – 00:11:06:05
Jeff Bradshaw
But so we spend a lot of money on technology, made a lot of mistakes, but you just keep learning and keep adapting and keep driving forward. And you know, here we are 25 years later and still going strong and looking ahead as to what else is new and what kind of technology can we talking to to to bring to our clients.
00:11:07:06 – 00:11:28:20
Dario Nouri
Yeah, we talked a lot about technology, but I feel like nowadays it's yeah, it's the barriers to entry are so low, anyone can pretty much enter it. But the strategy part is the one that really matters. And a lot of the companies we've been talking to on this show, they're always reiterating that point, how they're trying to be very strategic with their clients in terms of the content they create for them.
00:11:28:20 – 00:11:39:04
Dario Nouri
Right. I'm just curious to like I mean, you've been in this industry for so long, I'm just curious as to what you've seen change on that end. Right.
00:11:41:00 – 00:12:00:05
Jeff Bradshaw
Well, absolutely. You guys are bang on, and I think that's the critical part of it. I mean, we've had a tagline we've used for a lot of years called Story First, Medium Second. And the meaning behind that is that if you can tell a good story, it doesn't matter. Every medium works, whether it's print, you know, web video, everything works, even coupons.
00:12:00:05 – 00:12:18:19
Jeff Bradshaw
You know, if you're advertising, everything works. It's just a matter of the story you tell. And I think the problem being is, is with video guys like guys, visual guys, animation guys is that we're a bit of an afterthought. So a lot of the agencies will go and develop these campaigns and they'll develop the strategies and the key messaging.
00:12:18:19 – 00:12:36:02
Jeff Bradshaw
And we tend to be a little bit of an afterthought. And we kind of you know, we always say that we need to guys like guys need a position at the big kid's table. So when you've got your ad agency or your PR firm or your digital agency coming up with the strategies, the visual guys should be there as well.
00:12:36:04 – 00:12:58:16
Jeff Bradshaw
We should be at the table talking about the strategy for the content evolve and the stories you're developing and then how are you going to distribute that content? And that's where I think it's changed and that's where that strategy comes in is because we we're we're generally better off knowing new platforms like TikTok or Reelz or anything else and how the content needs to be produced or pre-roll ads.
00:12:58:24 – 00:13:21:07
Jeff Bradshaw
And so why aren't we at that table coming up with a strategy? And so a lot of agencies don't like us being at the table because they'd rather put us in the corner and tell us what you know, what they need and we don't deal with a lot of agencies. We're happy to deal with agencies. We love working with agencies, but not if they're going to put us in the corner and, you know, kind of control us and let us speak when it's our turn.
00:13:21:08 – 00:13:32:03
Jeff Bradshaw
We'd rather be at the table and say, No, no, here's some ideas as to how we can integrate, you know, your video into your overall. You know, whether it's a marketing campaign or a corporate communications campaign.
00:13:34:18 – 00:13:50:09
Kyrill Lazarov
Did you you mentioned that you don't work with agencies too much, but like it was there like a period where you did kind of work with them quite a bit, where you kind of like started to see like the importance of being at that table. As you say, they go like, well, at what point did you realize that how key that was?
00:13:51:14 – 00:14:09:18
Jeff Bradshaw
What we didn't purposely not work with you? What I found with the agencies is that there's probably a few incidences, maybe ten or 15 years ago that, you know, we're one specifically we had a client come through or we had a client, a corporate client come to us directly and ask us to produce a video. We gave them a quarter.
00:14:09:18 – 00:14:33:07
Jeff Bradshaw
I don't was $35,000 or something. It was a bigger project. They said, Oh, we're going to get our agency involved. They got the agency involved. The agency came back and said, Great, we want to do this creative, which was our creatives and they said, We have $8,000 for production. And I kind of went, Wait a minute, how did it go from a $35,000 budget to 8000 were like, Well, we need to, you know, we need our markup and we need our spending.
00:14:33:09 – 00:14:49:23
Jeff Bradshaw
And I was just going like, Wait a minute, how are we supposed to produce? So we were expected to produce the same quality work for less than a third of the budget. And I just I went back to the client directly. I said, you know, this is what's happening, this is this is ridiculous. And the agency didn't like that.
00:14:50:18 – 00:14:53:18
Jeff Bradshaw
And we haven't worked that. I don't even think they're around anymore.
00:14:54:16 – 00:14:58:24
Kyrill Lazarov
Or that business practices like that. I'm not surprised to be.
00:14:59:18 – 00:15:18:00
Jeff Bradshaw
Well, yeah. And I'm not. And so for us, we do work with agencies and we're happy to work with agencies. But we want to make sure that, again, you know, everything's up front and we're able to provide some value and, you know, bring our expertize to the table. So again, we do work with agency. It's just we don't work.
00:15:18:03 – 00:15:26:24
Jeff Bradshaw
There's other companies in town that rely heavily on agency work. We just we tend to work with clients direct. We just have a better result doing that.
00:15:27:18 – 00:15:51:02
Dario Nouri
Yeah, I've always wanted this this new direction. Our industry is going nowhere because we have to develop all these strategies or, you know, we do like to implement a bit of strategy into the content we produce for our clients. It feels like we're walking this fine line between we're a video production company that can, you know, create your video and help you get a bit of strategy.
00:15:51:02 – 00:16:12:20
Dario Nouri
But we're not really a marketing agency, so it's like we're kind of dipping our toes a little bit over there. So it's this like we're transition. I guess everyone is kind of going into we're, we're kind of like mostly video, but we're a little bit of marketing expertize thrown in there. Right? And then it seems a little weird because if you do start to offer marketing services, then you kind of become something else entirely.
00:16:12:20 – 00:16:14:09
Dario Nouri
Right now you're in a different pond.
00:16:15:16 – 00:16:33:14
Kyrill Lazarov
Well, part of it is also that a lot of clients and a lot of companies essentially have they have their own marketing teams and more and more is being asked of them these days compared to what it used to be. Used to be believed that, you know, you have to go to the agency, get them to create a brief, do this, do that, do this, do that.
00:16:33:20 – 00:17:02:06
Kyrill Lazarov
And now a lot of companies are starting to have bigger and more capable marketing teams with their own graphic designers, copywriters, their whole team. And so that's why they are kind of like creating that bigger creative at this point and then bringing us into kind of give our input. So there's that kind of collaborative effort, I've noticed, where the agency's role has kind of almost been like split into two, where like one goes to the client and then the other half goes to the to the video production company.
00:17:02:06 – 00:17:03:17
Kyrill Lazarov
At least that's what I've seen so far.
00:17:05:07 – 00:17:30:06
Jeff Bradshaw
Well, you know, I think that and that's a great point I think that I think it's knowing where our limitations are, the agencies that we work with, you know, these are brilliant people that they know strategy from overall communication strategy. They know print design much better. They can tie it all together, nothing but respect for them. We know how far we can go down that line before you're right where it kind of gets confusing.
00:17:30:06 – 00:17:53:09
Jeff Bradshaw
But I also think the other thing, too, is that it's about everybody fighting for this piece of pie. A lot of the agencies now are taking their graphic designers and now offering video production services, and they're doing explainers in-house. As somebody who knows Photoshop and Illustrator can get into after effects and start creating. And so all of a sudden, because they're going, well, look, we can keep part of this budget.
00:17:53:09 – 00:18:11:03
Jeff Bradshaw
So it's all about this fighting over the budget and our belief is it's not about fighting over the budgets and providing the client with a solution where you grow that pie. So we all get more money, right? We can all, you know, take our fair share. When you got to start kind of going, well, no, no, we'll do that.
00:18:11:03 – 00:18:23:19
Jeff Bradshaw
We'll do the marketing strategy, even though we don't know how to do it just because we want to get an extra 20% on the budget. Well, that's I think that's you're you're going to run into some problems there potentially unless you have the skill set to do it.
00:18:24:04 – 00:18:24:09
Dario Nouri
Right?
00:18:24:22 – 00:18:47:10
Kyrill Lazarov
Yeah, I like what you mentioned about like how well everyone is trying to fight for budgets typically. But you did mention also like, you know, sometimes you want to try to elevate that budget, you know, based on the value that this project is going to give the client. And I've noticed that too, where sometimes like a client may have like a certain budget in mind for a project, but they haven't really thought about what value this project might give to them.
00:18:47:18 – 00:19:07:14
Kyrill Lazarov
And then once we kind of talk to them, figure out the solution, as you mentioned, that that suits them. They might see the bigger value in it and then realize, oh, we might need to pull in more funding so that we might be able to bring in this team and this team and this team. And then because of that, like there's going to be a much larger value at this point for this project.
00:19:07:14 – 00:19:17:24
Kyrill Lazarov
So we got to bring in more money. So budgets are not always set, you know, as long as you can communicate the right solution and the right value, then, you know, the sky's the limit at that point, right?
00:19:19:16 – 00:19:40:05
Jeff Bradshaw
Absolutely. And I think that's that's everybody's job. The table, whether it's the agency, the video producer, whoever it is, the PR firm, it's about making sure I mean, whatever we can do, if it's a client is selling some widget, if we can increase their sales where they're going to have more budget for us. I mean, if we can increase their sales tenfold, they're just going to keep coming back.
00:19:40:05 – 00:20:01:01
Jeff Bradshaw
I always joke with clients, too. You know, I always say, you know, I can't retire off your one video project. I need multiple projects over the years. So I have my best interests, vested interest in seeing you succeed. Because the more it can help you succeed, the more money you're going to spend with me. You know, $100,000 video project isn't retirement money.
00:20:02:03 – 00:20:24:21
Jeff Bradshaw
And so that's just you know, we're pretty open about that. And it really is about helping the client to achieve those goals. And again, even even even internal communications is if it's about getting more engagement from your employees or, you know, getting more engagement from some shareholders. I mean, all of that stuff, there's, there's got to be that ROI on it to justify the money they're spending because some of the stuff we do isn't cheap.
00:20:26:14 – 00:20:42:00
Jeff Bradshaw
You know, there's cost to anything. That's a whole other topic as well is just the cost in the value of what we provide. A lot of people don't understand. You know, we are getting all the time, you know, where they say, I, you know, I got somebody who can do it for a quarter that price. Great. But generally you're not comparing apples to apples.
00:20:43:23 – 00:20:44:23
Kyrill Lazarov
It's like, sure, go ahead.
00:20:45:15 – 00:20:47:19
Dario Nouri
There's always someone that can do it cheaper, you know?
00:20:48:00 – 00:21:07:23
Kyrill Lazarov
Yeah. That's when we say if they if they can do it for you cheaper, by all means, go go to them. It's like, you know, like we can't do it for less, you know, to our the best of our abilities, you know, it's like sometimes asking it's like it's like going to a restaurant asking for a sandwich and then saying, oh, sorry, but I only have this much money is like, okay, let's take off the bread.
00:21:08:06 – 00:21:19:03
Kyrill Lazarov
Let's take off the meats here. So here there's a salad. You know, that's essentially what what that kind of negotiated is at this point, right? It's like, I can't give you the whole sandwich. We only have two bucks for it, you know?
00:21:19:22 – 00:21:36:09
Jeff Bradshaw
Yeah. And even even some of the things that you see in that, even when it comes to the the explainer videos and animation stuff, you know, we're getting people going, oh, well, I found this site online that, you know, I can get it done overseas for, you know, $300 I'm going to go for it. And I guess, you know, good luck.
00:21:36:24 – 00:21:46:23
Jeff Bradshaw
And we've had clients that have tried things like that, and they've come back to us and said, okay, yeah, you know, they don't want you guys return. Yeah, you guys return our phone calls and you know.
00:21:47:23 – 00:22:10:08
Kyrill Lazarov
So now they spent an extra $300. That's the thing. It became more expensive doing that. So you can go test it out. Sure. But it's going to cost you more doing that. And especially time, that's the biggest thing. All that time and opportunity cost wasted going down the cheap road because those are always like the ones that go even much longer than usual as well.
00:22:10:20 – 00:22:11:22
Jeff Bradshaw
Absolutely. Yeah.
00:22:12:05 – 00:22:29:01
Dario Nouri
That must be very humbling for a client to come back though, and say like, yeah, it didn't work because we actually had a guest a show or two ago and they were talking about how they do follow ups with clients. I do want to do that route just to see if they actually did end up go that going that way and if it worked out or not.
00:22:29:01 – 00:22:37:07
Dario Nouri
And if they didn't, if they say no, they'll tend to go back with them. But I'm just going to do that too. Or do you just wait you know what?
00:22:37:16 – 00:22:55:00
Jeff Bradshaw
We we've never really followed up. I mean, generally it because it's not our regular clients. Usually it's a random phone call. Somebody calls us and says, I want to do this and you know, I can get it done for 300 bucks. We did have a couple of clients years ago and it was more on we did that one with animation.
00:22:55:00 – 00:23:11:21
Jeff Bradshaw
They just came back and they displayed. We said, Yeah, we made a mistake. We shouldn't have done that. Some of it, too, is even with some of the Streetview stuff we did years ago with guys found cheaper solutions for streaming and they came back and said, Yeah, you know, we, we didn't realize how difficult it was streaming especially.
00:23:11:21 – 00:23:20:04
Dario Nouri
And that's something we were always scared to do because it's like, yeah, it's just there's so many things that can go wrong with streaming. It's just it's a stressful time because.
00:23:20:04 – 00:23:37:23
Kyrill Lazarov
It's not in our control. That's the biggest thing. The good thing about our job is that most of the things we do are within our control, which is why we're very certain of what is and what isn't needed. When it comes to streaming, though, how is the locations? Internet service is always the first question that is asked. How strong is that?
00:23:37:23 – 00:23:57:00
Kyrill Lazarov
Because that's something that's just not in our control typically. And anytime we get requests for for streaming, like if it's something on a smaller scale, we try to take it on a course. But if some of them need something with much more manpower than we, we just send it off to like people in our network because that they're the experts.
00:23:57:00 – 00:24:02:18
Kyrill Lazarov
You know, like as to your point, you've got to bring in people that are experts in their respective fields for this.
00:24:03:12 – 00:24:04:06
Dario Nouri
And and the.
00:24:04:06 – 00:24:22:14
Jeff Bradshaw
Streaming side, I mean, streaming is it's live television, right? And when things go wrong and I think the Russian government found that out a couple of days ago and that Ed ran on to the screen if you guys saw that or not. But oh, I like this design. Yeah. Oh, Ed ran on and said, don't believe this propaganda.
00:24:22:14 – 00:24:38:24
Jeff Bradshaw
And I think she's been arrested. And but, you know, that's live television. And so when something goes down, you got to react and enforce it with the streaming stuff. So we're doing a project right now for a client where they did it live last year and it went okay, but it didn't go great. You know, they had some delays.
00:24:38:24 – 00:25:04:01
Jeff Bradshaw
They had some check ups. So what we're doing this year is we're pre-recording a 90 minute show. We're not it's kind of a simulated live. We're setting it up as if it's going to be live, but it's all going to be prepackaged. We're going to be like tested in advance you know, when the time comes, we hit play, you know, it'll be seamless as opposed to, you know, the risk of, like you say, local Internet, you know, the bandwidth in the building you're in crapping out on you.
00:25:04:13 – 00:25:13:01
Kyrill Lazarov
That's a great solution, especially unless it's a newscast. I've always wondered why a lot of people or like a major event, of course, even newscast.
00:25:13:01 – 00:25:17:21
Dario Nouri
I always wonder why they don't just shoot it like, I don't know, 3 hours before it airs like that.
00:25:18:01 – 00:25:36:09
Kyrill Lazarov
I think it's more work for them. That's why, you know, how much work they have to do as a newscast. Like I've heard of situations where they basically have to edit something within 30 minutes, get put on the show, you know? But I get it for newscasts, but like for something like you just mentioned, Jeff, that you prerecorded. It's perfect.
00:25:36:09 – 00:25:52:16
Kyrill Lazarov
You get it done exactly the way you want and then you just simply stream it live. You know, like I feel like that's the right approach for anything that isn't like a once in a lifetime, obviously event, you know, like a conference or if it's a newscast or something like that. I think those are the only ones where it kind of warrants that.
00:25:52:16 – 00:25:54:13
Kyrill Lazarov
Otherwise that's the best approach.
00:25:55:03 – 00:26:13:24
Jeff Bradshaw
Yeah. And even though the one we're doing, we're doing some of the recordings of some of the speakers kind of closer to the date. So if there's anything that happens in the world that's going to impact, you know, their business, they'll still be able to provide an update. But so they'll do that. And then what they have is they're going to have a live chat at the end of it so they can take any questions and address any questions.
00:26:13:24 – 00:26:31:13
Jeff Bradshaw
But it's not going to be a live video feed. It'll be more of a, you know, an online interaction chat session. So and again, that's just us having that experience. And then like you guys, you know, we've had so many webcasts go down on us. We just we avoid life, you know, at all costs. We do. We have done some of them.
00:26:31:13 – 00:26:35:00
Jeff Bradshaw
We've had some good success, but it makes me nervous every time.
00:26:36:02 – 00:26:53:23
Kyrill Lazarov
Yeah. No matter how much experience you have, there's still a margin for error. Not from you, as I mentioned before, you know, external factors. It's just that's just the nature of the game. And that's why any time people ask any production company, how are you guys about live streaming and it's just like, we're always going first. Okay. All right, look at that.
00:26:54:08 – 00:26:55:23
Kyrill Lazarov
Let's figure this out. So.
00:26:56:19 – 00:26:57:02
Jeff Bradshaw
Yeah.
00:26:58:00 – 00:27:30:12
Dario Nouri
So Jeff, again, since you've been in the industry for 26 years, I'm just learning in terms of the clients or leads that you've, you've the difference in, in leads that you've seen over the years because we have seen I mean, obviously like nowadays everybody is doing video for their businesses. Right. Versus like back then, I can only imagine due to again because there was a high high barrier to entry for a lot of companies, the prices for regular videos must have been a lot higher than probably what they are today for the same type of video.
00:27:30:12 – 00:27:42:12
Dario Nouri
So now that the prices are a lot lower, I'm just wondering what kind of transition you've seen in terms of the leads that approach you for content you know, we we are generally.
00:27:42:19 – 00:28:04:12
Jeff Bradshaw
Dealing with kind of mid to large companies and that's how we differentiate ourselves in the market a little bit. We're structured to work with larger companies. So when we get smaller companies come in and are looking for for production work, they generally have smaller budgets which is totally cool. But will we have other groups that we can kind of pass them off to?
00:28:04:12 – 00:28:24:24
Jeff Bradshaw
We tend to be more structured even though so I guess what we're doing is we're still going after that mid to large size companies. And we're doing more videos. So the cost per video is coming down, whereas years ago we might spend 100 grand, 200 grand on one corporate video. Well, now we're stretching that same budget into 50 videos, you know, throughout a year.
00:28:26:00 – 00:28:49:10
Jeff Bradshaw
And again, we're just getting more creative with it. So we still get the calls but we always, you know, we try and qualify the lead so that we don't if somebody has got $1,000 budget and they want to you know, five minute corporate video at multiple locations, we're just not the right guys to do it. There might be some other people out there or we try and explain to them the cost and what's involved in it.
00:28:50:16 – 00:29:13:16
Jeff Bradshaw
But I would say our business I mean, we we don't get a lot of incoming inquiries. We're going out to get the business. You know, we know who the customers are. That's the one I mean, my background, I'm not a video guy. I started in advertising sales at CTV. And so I don't have a production background. I just learned everything over the years and being in the television side of things.
00:29:14:00 – 00:29:30:08
Jeff Bradshaw
And so I've always been big on the fact that in any business, doesn't matter where you're production business or an accountant or anything, I think you need to be constantly out pounding the pavement, looking for new prospects, coming up with new offerings, you know, reinforcing the value that you provide to clients in the marketplace.
00:29:32:20 – 00:29:56:05
Dario Nouri
Yeah, the the sales process is definitely very important. I think luckily nowadays we do have other means of getting leads. I've always been curious about the sales approach, though, because I feel like it's a little tricky for our industry because you aren't selling. Exactly. I mean, we are selling a product, but it's also specialized at times. So I'm kind of wondering how you go about your sales process.
00:29:57:18 – 00:30:18:01
Jeff Bradshaw
Well, for us, again, because we kind of have to find our market, we'd rather have, you know, marketing and advertising. People within companies depend on the type of company they have or we're going after the corporate communicators. So we use things like LinkedIn, we network, you know, because we've been in business for so many years, we have a pretty good sense as to kind of who's in the market.
00:30:18:01 – 00:30:40:18
Jeff Bradshaw
And it's just it's a constantly touching base with people letting them know that you're there, you know, feeding them new ideas. We have a blog site called Thing Visual on our website. If you guys get a chance to check it out, we started this about six, seven years ago and think Visual was just, you know, great campaigns videos that our team finds online and we just share it.
00:30:41:00 – 00:31:01:22
Jeff Bradshaw
And it's no secret we're not position. It is our work. We just said this is great video content we found online and we use that to share with clients to say, here, use this as some inspiration. You know, here's some ideas as to what some of the top production companies around the world are producing for clients. And so we use that is just kind of a given them ideas.
00:31:02:07 – 00:31:20:18
Jeff Bradshaw
So it's not a hard core sales you know press hard three copy same. Now kind of a sales approach is just constantly being out there and providing them with value and ideas and giving them ways that they can use video and animation to improve their marketing and their communications mm.
00:31:21:05 – 00:31:49:09
Dario Nouri
Well, lately we've been focusing a lot on like advertising on Google, like Google AdWords, a lot of SEO and we've, we've like the main way we get our clients is through either like our website, like they just wind up or through referrals. Like it's mostly for us. I started out a lot as referrals and now it's transitioned to more leads from our ads or just from Google.
00:31:49:19 – 00:31:55:15
Dario Nouri
But sales is definitely something I think we need to start thinking about. It's like, yeah, we're still trying to nail that one.
00:31:55:15 – 00:32:19:19
Kyrill Lazarov
And it's an ongoing process, essentially and well, what I was actually a little bit curious about, you said that you do a lot of outreach yourself and you said you have a very good sense of what the market is like and who might be looking for video content these days. Is that maybe potentially a reason because of like how big, maybe necessarily the Calgary market is for or for this kind of work?
00:32:19:19 – 00:32:31:16
Kyrill Lazarov
Or is it or is it kind of like almost comparable? Obviously, it may not be comparable to Toronto, but is it kind of like to a level where like you have a much like more in-depth knowledge of like the entire market that's there? Like, personally.
00:32:33:02 – 00:33:04:06
Jeff Bradshaw
I would see I mean, Calgary's not a huge market when you compare it to a Toronto or even in Vancouver. I mean, we're a bit smaller but I still even think in Toronto or Vancouver, larger markets or even some of the smaller markets, if you're in a, you know, a Red Deer or a large bridge, I think it's just about trying to identify, you know, the people that have a need to communicate, whether it's to employees investors, to customers, and really just giving them ideas as to how they can use video.
00:33:06:02 – 00:33:29:08
Jeff Bradshaw
Anyway, I always say that, you know, everybody has a message, everybody has an audience. So if you if you're a company that has, you know, 500 employees, well, you need to recruit people. You need to train people. You need to get town hall meeting messages out there. You have all this stuff. And so we're just out there saying, well, here's a way you can do with video if you're trying to sell a product, well, how about an explainer video?
00:33:29:08 – 00:33:47:05
Jeff Bradshaw
Or how about some pre-roll ads for YouTube? Or how about a video for your email signature so that we know when you're sending all those emails out, people can actually log in and see what you do. So it's just it's giving people ideas. And so, you know, I have a pretty good sense as to who is in the Calgary market.
00:33:47:05 – 00:34:14:03
Jeff Bradshaw
But there's also a lot of companies we don't know, but that's what we're constantly prospecting. We're constantly reaching out. We're scanning LinkedIn to find out who the the communications VP is or and then trying to figure out how to get some information in their hands. You know, we just did a video that we talked about, you know, we've we've we've by far have probably interviewed the most number of senior executives in this city over the years.
00:34:14:11 – 00:34:35:06
Jeff Bradshaw
You know, hundreds and hundreds of senior executives. And so we just did a short video and said we know how to interview people. We know how to deal with senior executives. We know how to make them feel comfortable. We know how to make them look good on camera and we take that video and we're blasting it out to probably four or 500 prospects to say if you're doing videos with your senior executives, we're the guys who know how to do it.
00:34:37:02 – 00:34:44:09
Jeff Bradshaw
So again, just getting creative in, you know, building trust with, you know, existing clients and prospective clients.
00:34:45:11 – 00:35:03:06
Kyrill Lazarov
Do you find any challenges like or at least what are some of the challenges that you might face when you are trying to kind of reach out to them? Do you get a lot of kind of pushback, you know, especially with cold outreach, you know, feels like sometimes 90 95% of the time it's like, oh, thank you for reaching out or not even an answer at all whatsoever.
00:35:03:06 – 00:35:10:03
Kyrill Lazarov
Right. So like, how do you kind of like navigate that or even push past that to kind of get those get those sales?
00:35:11:07 – 00:35:26:04
Jeff Bradshaw
Well, it's funny. A real funny story. I got a 19 year old daughter who's looking for a job right now. And she says Data can't find a job based on how many resumes you send out. She says four. And I was like, okay, there's the problem. She goes, Well, I had two interviews and I didn't get the job.
00:35:26:04 – 00:35:44:12
Jeff Bradshaw
I said, There's the problem. People are so afraid of rejection, you know? And again, I started in sales I'll send out this video to 400 people and nobody gets back to me. I don't lose any sleep over it. And, you know, I'm respectful. I'm not a pushy sales guy. I'm just like, well, obviously it wasn't of interest to them.
00:35:44:12 – 00:36:01:05
Jeff Bradshaw
So I'll come up with another idea three or four months from now and reach out to another 400 people. And I think so many people that get into business and I don't know what you guys as backgrounds are, people get into especially the video business, they come out of broadcast school or they go to a film school and they come out and they love their craft.
00:36:01:05 – 00:36:20:15
Jeff Bradshaw
They're great at their craft. They love the business. They start a production company and they don't put enough emphasis on learning how to sell their product or they're nervous about selling. Nobody likes everybody's going, Oh, I don't want to be a salesman. You know, there's an old, you know, perception of sales is slimy. It's not. It's about work.
00:36:20:17 – 00:36:39:06
Jeff Bradshaw
We're providing solutions to businesses to help them see, communicate, to sell more product. We're not we're not forcing anything on anybody. And I think that's where a lot of you know, so we do we get pushback. We get ignored all the time. Every once in a while, I get an email and somebody said, don't ever send me any information again.
00:36:39:09 – 00:36:56:20
Jeff Bradshaw
That's fine. I don't care there's a there's a million other people out there I can talk to. I don't care about that one individual who's grumpy. And so we just keep plowing through and we keep reaching out to people because we're not pushy either. You know, we're not trying to force it. What do you mean? And we're just saying, look, we provide a great service here.
00:36:56:20 – 00:37:16:07
Jeff Bradshaw
We have great solutions. If you have a need to, you know, communicate with customers, employees, investors, here's some solutions that could help. And we get you know, that's really what has allowed us to succeed and stay in business. Over the years. Is that just not being afraid of rejection and just constantly pushing.
00:37:19:02 – 00:37:24:15
Dario Nouri
Jeff, what's how big is your team? So you you started the company. Do you have any partners?
00:37:25:10 – 00:37:49:04
Jeff Bradshaw
No, no. I started when I started the company. I had a partner in the first year. I bought them out. I'm the sole owner. We were up back six, seven years ago. We're up to close to 30 people 20, 15 here in Calgary. When the energy industry started to tank, we started to pare back a bit and we were down to about 15 people pre-COVID when COVID hit.
00:37:49:04 – 00:38:27:15
Jeff Bradshaw
We unfortunately let go of half of our team just because we knew it was going to be a downside. So we're now 89 full time people, but then we're using a lot of the people that we unfortunately laid off. We're using a lot of them on a freelance basis. So we have anywhere from 20, 20 plus people kind of go on at all times and I got to be honest, like having a smaller team and using freelance is actually a bit of a relief because when you've got 20, 30 people on the payroll, there's a lot of pressure, you know, every month just to keep cranking the cash flow just so you can break even.
00:38:28:01 – 00:38:53:13
Jeff Bradshaw
And as a business owner at the end of the month you're sitting it going, Oh, I hope I made something, you know. So, so it's, it's been scaled back, but we're like I say, the market starting to come back now. We're starting to feel, you know, even just since January COVID seems to be passing and it seems to start to level out a little bit in Calgary here the $130 a barrel oil helps the market for us guys.
00:38:55:11 – 00:39:05:12
Jeff Bradshaw
So hopefully we can start to kind of build that team back up. I don't think we'll ever get back up to that size again. Just not because we want to have to work is just because I just think we like to be a little bit leaner and meaner.
00:39:07:08 – 00:39:28:00
Kyrill Lazarov
And that definitely seems like to be the trend with with a lot of companies because Darren, I have always have been talking for years about how we can potentially kind of scale up because we can't be just the two of us like full time forever necessarily. You know, we're trying to figure out what might be some good rules to kind of first bring in down the road because like we're a very similar situation, you know, we're nimble team.
00:39:28:00 – 00:39:49:09
Kyrill Lazarov
Just the two of us right now is the core and we have like ten or so freelancers that we're working with on a consistent basis, depending on obviously the projects. But if you were to what was like the first kind of hired that you found was like the most beneficial to you when you were trying to scale up, like what was the first thing that was on your list to, to do or did you learn was the right one to do.
00:39:51:06 – 00:40:22:06
Jeff Bradshaw
Yeah, I do. Probably not. One person is probably two or three. And to me in our business, you know, the, the, the where you make your money or the people that are billable. I'm not billable. I mean, I kind of am, but I mean, I'm not really. But, you know, when you've got a great animator shooter Ed on staff that can crank out some amazing work and you can keep them building you know, when we're, you know, the size of the room, we are larger.
00:40:22:07 – 00:40:43:18
Jeff Bradshaw
You know, we had a team of six or seven entities and we had a couple of shooters and that was good. So that was critical. But I also think having somebody from an, you know, a management side of things, I've got Jamie that works with me. She's been with me for 17 years, you know, and being able to coordinate and keep all the details in mind because I'm not a detail guy.
00:40:43:18 – 00:41:00:23
Jeff Bradshaw
I'm the big picture guy. And I come back, let's do this for a client. I throw these crazy ideas and they come back and it's people like Jamie who put all the pieces together and go crazy, how do we do this? You know? But then make things happen and keep it organized. So it's kind of twofold. There wasn't really one hire.
00:41:00:23 – 00:41:20:01
Jeff Bradshaw
I think it's a matter of you just got to get those complimentary people, you know? So I'm always out I've always been out selling the projects and coming up with the ideas to build the relationships. I bring it back, and then I just have that trust in the team that they're going to be able to pull off whatever crazy idea I talked to a client about.
00:41:21:07 – 00:41:22:11
Jeff Bradshaw
And it it's really.
00:41:22:19 – 00:41:29:16
Dario Nouri
Oh, sorry. No, I was just going to ask you, do you still direct a lot of your projects or do you just kind of like run the business?
00:41:30:15 – 00:41:40:11
Jeff Bradshaw
Yeah, I never direct. I mean, I have directed and I would say even though I'm not trained, I didn't go to film. So I don't know, I don't actually have any post-secondary or any.
00:41:41:14 – 00:41:46:04
Dario Nouri
Assignment like directing, producing. So like are you on set at all for your projects?
00:41:46:04 – 00:42:14:12
Jeff Bradshaw
Or not very often. No, I, I like I say, my, my main background in the business has been running the business I'm involved in the creative and the strategic side of things with clients, but we have directors and producers that actually do the work and pull the projects off. So like I say, I have no client training. I came out of high school and I got a job as a sales guy and just kind of fell into the TV business.
00:42:14:12 – 00:42:20:02
Jeff Bradshaw
So I know I could direct and I have directed the thing, but I wouldn't call myself a director.
00:42:22:02 – 00:42:34:23
Jeff Bradshaw
I'm more taking the role, I guess. The executive producer will sit back and, you know, but I'm also very critical. I'm critical to the work we're doing and I know what looks good and what doesn't. And, you know, just from years of being in the business.
00:42:35:07 – 00:42:47:00
Dario Nouri
When you were first starting out, though, were you like you were probably like on on like you were producing directing then. Right. And then you transitioned to just being behind the scenes. You know, again, I.
00:42:47:12 – 00:43:12:03
Jeff Bradshaw
I came out of selling advertising for TV. The guy that I partnered with, first off, he was a producer director, more of a producer, less of a director. We were partnered for the first year. He didn't like the idea of being in business for himself. He couldn't handle the stress. So I bought him out. And then I hired two producers, and then we were freelance directing everything for the first four or five years.
00:43:12:24 – 00:43:23:09
Jeff Bradshaw
So again, I was always on the street generating the business, and I'd bring it back in again. I've been on set lots, but I'm not nuts. I hire people for that.
00:43:24:01 – 00:43:45:11
Kyrill Lazarov
And essentially you're just you're managing different teams of people depending on the projects. It's like here's like three projects running at the same time. I'm going to put so and so and so each running each of those projects, they build the you allocate the team and the people. They're the thing I'm curious about, though, is you mentioned you're also dealing with a lot of the creative with the clients.
00:43:45:11 – 00:44:00:14
Kyrill Lazarov
So because you're doing that and then you're kind of handing it off to the team, I guess obviously because you've had like many years of of working with them that, you know, what kind of work they would produce. But like typically with us, whenever we're dealing with the creative, we're kind of seeing it through all the way to the end.
00:44:01:10 – 00:44:11:13
Kyrill Lazarov
How do you kind of maintain that quality or like, you know, that the director understands your vision, you know, as it goes along, like how do you manage that relationship between you and the director?
00:44:13:10 – 00:44:14:17
Dario Nouri
Again, I, you know.
00:44:15:07 – 00:44:38:13
Jeff Bradshaw
I have I know our directors and kind of the the skill sets that they have and who's good at what and so what I'm in talking to a client, you know, depending on the path we go down, will result in the director that will recommend bringing into the project we I work so closely with the directors when I come in and say, hey, we're looking to do this kind of a concept for the client.
00:44:38:14 – 00:44:59:10
Jeff Bradshaw
It's not too much of a stretch for them because they really know their strengths so I don't you know, if it's something really out of scope, if it's some crazy comedy piece or something or something really out there, I won't go too far down the creative path of the client without bringing our team in. And then it's a collaborative effort.
00:44:59:10 – 00:45:14:05
Jeff Bradshaw
Even, even you know, I always believe I don't believe they're just, you know, there are some amazing directors out there and amazing creative people, but I still think even the most creative people still rely on people around them to really fine-tune their ideas. So it's more of a team effort.
00:45:14:24 – 00:45:16:20
Kyrill Lazarov
Yeah, that's that's what I was kind of curious about.
00:45:17:11 – 00:45:39:04
Dario Nouri
It's so interesting. We know we haven't run into a another big production company that's being run like yours is being run, but it makes so much sense because yeah, like eventually the goal would be to get to the stage that you are in right where you're running the business, you're doing the sales, you're handling part of the pre-production and then you're overseeing the post.
00:45:39:04 – 00:45:57:05
Dario Nouri
But you're not going to set because it doesn't make sense for you to go set when you got to run everything else. Right? It's almost like, like I'm thinking in my head, like if you own a movie studio, you're not going to go all 20 to all 30 days of the production shoot that you're not going to be on set with the director and everything else.
00:45:57:06 – 00:46:00:16
Dario Nouri
You got to run the studio, right? You go to a whole bunch of stuff to generate business.
00:46:01:22 – 00:46:19:18
Jeff Bradshaw
And that that's a challenge is that a lot of people industry have like where you for you guys, you go sell a project to the client then you got to come up with the creative, then you go to go on set. Well, that might take you out of the sales cycle for two months and you see it, but you're out of the sales cycle for two months.
00:46:19:18 – 00:46:38:00
Jeff Bradshaw
And then that project wraps up and you're like, Oh crap, we need another project. So now you got to spend another month to get another project. And so if you can start to step back a little bit and bring some people in. So for you guys, you know, maybe you get, you know, a great production assistant who can do a lot of the legwork for you.
00:46:38:00 – 00:47:04:19
Jeff Bradshaw
So while you're coming up with the creative and you're actually going to be on set, maybe a lot of that other stuff you get somebody else to do and you're looking for the next job while you're waiting for the upcoming shoot, you know, so you can start to build on it. So that is we are quite unique. I mean, I've got a good buddy of mine that we're actually kind of competing companies, but we also are business partners in a real estate, in a building that used to be really heavy into production.
00:47:04:19 – 00:47:22:04
Jeff Bradshaw
And now he's kind of step back and act as more of the executive producer. And it's having a lot of success because he's talking to he, too. He's one that works with a lot of the agencies. He'll go and talk to creatives, figure out the project, he'll bring in the various directors, and then he'll kind of go, Great, and my team's got it.
00:47:22:04 – 00:47:30:18
Jeff Bradshaw
He'll go look for the next project while they're out on set, you know, create, you know, shoot in a commercial end. But it it's catchy. You know.
00:47:31:06 – 00:47:51:05
Dario Nouri
The system you have is like it's the way you're supposed to do it. I think the the way a lot of companies go about is kind of the way we're going about it, where you start off as little I mean the processes, you start off as a freelancer and then you start to get a lot of work. Then you turn into a company and then you slowly start hiring people that come to your projects and then, you know, you start growing a bit.
00:47:51:05 – 00:48:12:10
Dario Nouri
But I feel like I think most of the companies we know, like the people that are running the business still go to the shoots. Right. And I'm thinking like the reason for that, I guess, is because we like to be involved. We still have that. Like we love being on said. We love having like almost like, you know, you have like a power, almost like you're on site.
00:48:12:10 – 00:48:36:18
Dario Nouri
You're the guy directing, you're the guy producing, you're you're the guy that's important. You're an important wheel in the car. Right? But definitely, I think what a lot of people fail to see is probably that transition that they'll have to make you know, it's like, okay, now it's time for me to kind of take a step back and kind of just do more big picture stuff, which I think is a hard thing for some people to implement.
00:48:36:18 – 00:48:39:04
Dario Nouri
And it's probably very hard for them to do as well.
00:48:40:08 – 00:49:01:02
Jeff Bradshaw
And I guess it really depends on what your goals are. I mean, it's I know some guys that are creative and charge a lot of money for their services because they're amazing in what they do and they love being on set and they're artists, they're creative and they make a really good living, and yet they're still on set and they're craving the content because that's what they love to do.
00:49:02:01 – 00:49:16:18
Jeff Bradshaw
I'm personally just for me, I'm more of a business guy, I'm more of an entrepreneur, and so I'm more about building the business and pulling the teams together to be able to figure out how to grow the business. Less about the creative.
00:49:17:05 – 00:49:27:11
Dario Nouri
Being in business all these years. I'm just wondering, do you remember any key challenges that you've faced over the years and then how you overcame them oh.
00:49:27:19 – 00:49:50:22
Jeff Bradshaw
You know, there are so many challenges. I think there's challenges when it comes to people, you know, finding we've had some amazing we've got some amazing people on our team. We've worked some amazing people, but we've also had some people that have been challenges that have maybe cost us some business that haven't really acted or promote the content that we expect for clients.
00:49:51:22 – 00:50:04:01
Jeff Bradshaw
So those are some of the big challenges that we've had and not fun ones, right? So there's that. I think even changing with the technology is, is a.
00:50:04:01 – 00:50:04:20
Dario Nouri
Bit of a.
00:50:05:04 – 00:50:29:02
Jeff Bradshaw
Challenge. You know, even though we've made it through pretty well, it's, you know, getting undercut through people when all the new technology started to come out and getting undercut and trying to always prove your value to clients, you know, it's not a it's not a real challenge. It's just it gets tiresome after a while, you know, when guys are coming in constantly, but that, you know, I complain and then I'm going, you know what, look at the restaurant business.
00:50:29:02 – 00:50:49:10
Jeff Bradshaw
I mean, there's a thousand restaurants in Calgary. If you want to talk about competition, our competition isn't nearly as bad as the restaurant business and some of the other ones out there. So but I don't know. I mean, overall, I love the business. I mean, when we stop and think about what we do for a living, we are pretty fortunate.
00:50:49:18 – 00:50:59:10
Jeff Bradshaw
You know, we go out and shoot videos and have fun and talk to people it sure gets stressful like everything else. But I don't know, we're pretty fortunate.
00:51:00:03 – 00:51:17:08
Dario Nouri
Yeah. The one thing I really like about what we do is that we're always able to see all these different types of jobs that, you know, like it makes you think like, okay, if I went in that industry in that particular role, that's what my day would look like, right? And so it's always interesting to kind of like, just see what other people do, you know?
00:51:17:08 – 00:51:18:07
Dario Nouri
That's, that's what I like.
00:51:19:01 – 00:51:36:22
Kyrill Lazarov
The industries, too. That's the other that's what I like seeing some as well because it's like we have like an idea of like what it might be like to work in certain industries. And then when you when we go behind the scenes and create the content board, it's like, whoa, this there's a lot more that goes into this than, than most people probably realize, right?
00:51:36:22 – 00:51:39:15
Kyrill Lazarov
Because they don't show as much sometimes. Right?
00:51:41:00 – 00:52:09:15
Jeff Bradshaw
Well, and I think the cool thing is to us, I mean, like, I you know, and I don't even think about it, but I mean, we've we've played a role in some pretty major companies in some major campaigns. You know, like I'm sitting at home sometimes watching a hockey game or watching the news. And I'll see three or four TV commercials that we've produced you know, that we're helping influence, you know, buyers to to go and, you know, go to a certain restaurant or buy a certain product or whatever it is.
00:52:09:15 – 00:52:17:15
Jeff Bradshaw
It's kind of interesting. It's fun to kind of get behind that and have that kind of influence on a market. I think it's pretty neat.
00:52:18:21 – 00:52:24:12
Dario Nouri
How did you feel the first time you saw one of your ads on like the big screen? Well, you know, it's.
00:52:24:12 – 00:52:51:21
Jeff Bradshaw
Funny because because I started in the TV business back in the day when television and newspaper were like a really big deal. They're not such a big deal anymore. It was pretty neat. But yeah, the first the first couple of spots we did and when you saw it on TV as a production company and I would have been back when in 1996 97 was pretty cool, you know, and I was pretty young, I was 27 when I started 26, 27 years old.
00:52:53:02 – 00:53:10:01
Jeff Bradshaw
So to be able to sit back and go, Wow, look at, you know, we're doing this stuff and you know, we do a lot of photography work too. So, you know, as I flip through magazines I'll see photos that we've done and it's just, it is it even today, you know, today it's still exciting to see stuff that we've done.
00:53:10:21 – 00:53:27:23
Kyrill Lazarov
Yeah, we notice one thing in your portfolio is that it wasn't just video that you guys do, but we saw that you also developed some websites as well occasionally. Now you're saying you also do a bit of photography. So is it kind of like a little bit of everything that you guys are doing, or is it still like mainly video and then occasionally do other projects?
00:53:28:23 – 00:53:57:24
Jeff Bradshaw
Yeah, and we kind of went down that path of being more of a visual communications agency, but five, six years ago, but now I mean, the bulk of it is straight up video. We do a fair amount of animation work, you know, explainers and whatnot, like you guys, and we do websites but they generally are micro sites or kind of video centric websites you know, that we don't do just straight up websites like landing.
00:53:57:24 – 00:54:01:20
Kyrill Lazarov
Page kind of type ones, right? Like those for video. Yeah.
00:54:02:04 – 00:54:20:12
Jeff Bradshaw
Yeah, yeah. Like we did one for OPA. Which franchise? Greek franchise out here, fast food restaurant. And it was kind of the power of good foods. Had a bunch of different video content on all kind of promoting the brand. So that's the type of thing that we'll do. But again, it's all based around video type work.
00:54:22:00 – 00:54:42:00
Dario Nouri
I'm just wondering if you could go back in time like, well, it's a cheesy question, but I actually I'm pretty curious because you seem like you're you're pretty much you you sound like you're at the peak of like your your video career. So I'm just curious if you could go back in time. What would you do? Like anything you do differently, like any I don't know how you think.
00:54:42:24 – 00:55:11:07
Jeff Bradshaw
I'm probably past the peak, but you know. No, I wouldn't I don't think I would. I mean, it's it's been a great business. I mean, I think, you know, if anything if we could have adapted more over the years so that we wouldn't have had to deal with layoffs because of the energy industry or cold weather or anything like that, those are the situations that I would have done differently because when you're impacting people's livelihoods, that's the stuff that sucks.
00:55:11:07 – 00:55:46:14
Jeff Bradshaw
But as for what we've done with the business, I would say I'm pretty proud of it. And I would say I have no regrets. You know, you make the best decision at the time and to go back and say, oh, I should have or would have, or if I did, you know, we started our company, Jet Stream Digital Media in 1999, right back when guys like Mark Cuban and we were around streaming before YouTube was around so you know how they would I would like to have been the one that created the YouTube will of course, you know, but now I get no regrets.
00:55:46:22 – 00:56:07:01
Jeff Bradshaw
It's been, it's been great and I think, you know, it's exciting to see the content that's being produced out there, you know, and one of the big things that I find it interesting though is that also that years ago we talked a lot of our people wanted to leave our business to go and create movies or you know, create more dramatic type material.
00:56:07:01 – 00:56:28:24
Jeff Bradshaw
I think nowadays what I'm finding is that people like us can take what would be traditionally corporate boring corporate content and do some great storytelling around it and bring that skillset of great filmmaking to the corporate world. And I think that's what you're seeing more and more when you take a look at Vimeo and what some of the producers and directors are doing on a Vimeo.
00:56:28:24 – 00:56:32:20
Jeff Bradshaw
I think that's what's exciting about the business and hope to see more of that into the future.
00:56:35:00 – 00:56:58:10
Dario Nouri
Yeah, like I think for sure we are seeing a lot more of that. We're, you know, we're not many of our peers maybe aren't going into films, but they are implementing those techniques and skills into the corporate world, and it's making the content a lot more interesting. You know, it's not like corporate content is no longer I would say it's no longer boring like I think everyone's kind of trying to outdo themselves and how creative they can make corporate videos.
00:56:59:15 – 00:57:20:16
Kyrill Lazarov
Yeah, it elevates the industry, you know, it elevates the standard, you know, of what what is and what isn't good work. And it pushes it pushes all of us to to do even better work. You know, it's it's harder to do like it's harder to do a simple video these days, you know, in terms of like very basic corporate, you know, like we have to think about always like, oh, how do we make this stand out?
00:57:20:24 – 00:57:38:21
Kyrill Lazarov
What platform is it going on? So how can we film it in a way that that makes it stand out from the rest? You know, and this is where the video strategy comes into play, right? It's like, what can we do that works and lends itself to the strategy? So, yeah, it's it's really interesting where it's going now.
00:57:38:21 – 00:57:58:09
Jeff Bradshaw
I couldn't agree more. And I think that, you know, I see it even more so into the future. I mean, when I started the television business, you know, it's put tons of money into production work so you could go and sell them a 32nd TV commercial to support it. And now I think with the old term of branded entertainment, we're seeing more and more of that work.
00:57:58:19 – 00:58:15:07
Jeff Bradshaw
Why don't these brands just start creating great content and sharing it with people, you know, and you're starting to see more product placement, but you're starting to see more brands getting involved with actually creating unique content like a Red Bull. You know, everybody talks a little Red Bull, but it's brilliant. You know, they know who their target audience is.
00:58:16:12 – 00:58:25:18
Jeff Bradshaw
They sell an energy drink but they're also providing content for a very, very targeted market. So you can see even more of that. I think that's that's what the future holds, in my opinion.
00:58:27:11 – 00:58:38:05
Dario Nouri
Speaking of the future, though, like what what do you see happening in our industry going forward next? I don't know, five, ten years? Because you've seen you've seen quite a lot of changes throughout the years. Right? It's seen.
00:58:38:05 – 00:58:38:15
Kyrill Lazarov
It all.
00:58:40:16 – 00:58:56:10
Jeff Bradshaw
Well, you know, I think that I think it's just the storytelling is going to get better. I mean, I think you're going to start to see programs, you know, you're already seeing things like the voiceover business, right? You know, we used to have to hire a voice and go into a studio and record. And we still do that sometimes.
00:58:56:19 – 00:59:17:04
Jeff Bradshaw
But now you got things like voice one, two, three, where you can go out to the world and get voice recordings, which also opens up the market for local voice talent to go around the world. I think you're going to see programs, you know, kind of like what campus done for the graphic design space. I think you're going to start to see and there's already programs out there that can start to do some automated editing for you.
00:59:18:12 – 00:59:39:05
Jeff Bradshaw
So I think there's going to be some of that technology out there that that will start to change the business and make it easier for the content. So I think the focus is going to go back on to that creative storytelling, you know, needs that. I don't think you can. Why not yet? Maybe 20 years down the road.
00:59:39:05 – 01:00:02:13
Jeff Bradshaw
50 years down the road. The AI side of things will do it, but I don't think you can replace that. Creative minds behind goes back to my story of the photographer with the 35 mil cameras not the technology. I don't think we can have computers creating great content. I think that's what the future holds is people like us continuing to get creative and be able to tell interesting stories and then use the technology at hand too.
01:00:02:14 – 01:00:03:04
Jeff Bradshaw
And Hansen.
01:00:04:11 – 01:00:36:01
Kyrill Lazarov
Yeah the mediums are going to get better and better, there's no doubt about that. I don't know how much of an accelerated growth that will be, you know, I don't know if it'll go as far as the digital, the DSLR revolution, you know, in terms of that type of how do you say if that big of a change, but it obviously will get better and better, you know, like how iPhones get better and better every year, you know, but as as to what you said, storytelling, it's always going to be super important and it's always going to be based on the strategy and the story behind the content that will make it important.
01:00:36:15 – 01:00:47:19
Dario Nouri
Okay. Well, I think we're at the one hour mark, so I think let's just end it off there. I think that was a good way to close the tie things off. Just thank you so much for coming on the show.
01:00:49:14 – 01:00:56:19
Jeff Bradshaw
Thank you, guys. I love what you're doing with this, and I think it's a great idea and it just opened it up and talking to different people. I totally appreciate what you guys are doing, so thanks for having me.
01:00:57:20 – 01:01:08:00
Kyrill Lazarov
Always. We appreciate that. And we're glad that and we're glad that you could join us. And, you know, hopefully within another year or two, we'll check back in and see and see where you're at in another episode. Right?
01:01:09:14 – 01:01:11:21
Jeff Bradshaw
Perfect, guys. All right. Give.
If you liked this podcast then please share it!
Join Our Newsletter
Check out more episodes!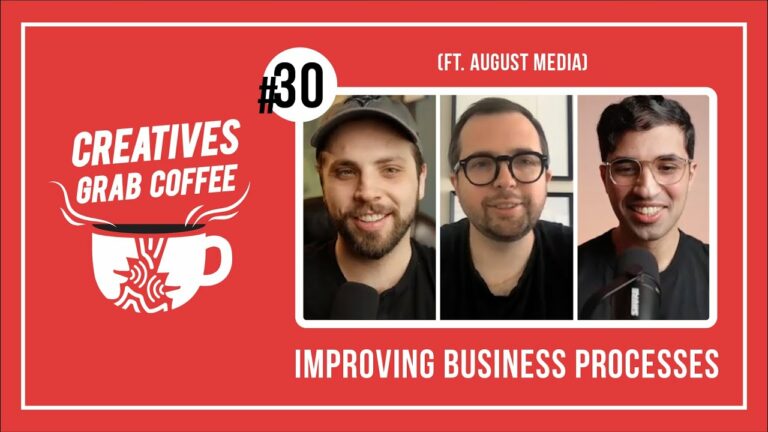 Today we are joined by Sasha Ulyanov from August Media. August media is a boutique…