Internal Growth and Strategy (ft. Black Box Productions) | Creatives Grab Coffee 21
Welcome to Creatives Grab Coffee, a podcast on the business of video production, hosted by Dario Nouri and Kyrill Lazarov from Lapse Productions.
Our goal is to make the video production industry smaller by creating a sense of community. Whether you are a creative, an entrepreneur, or a professional there is knowledge for you to learn. Join us as we have industry professionals from around the world come on the show and share their insights on the industry and business. Welcome to Creatives Grab Coffee. Welcome to Video Production.
This weeks guest is Josh Usheroff from Black Box Productions. Black Box Productions is a Montreal and Toronto based Video Production company that creates branded content and marketing videos for advertising agencies and corporate clients.
https://podcasts.apple.com/ca/podcast/internal-growth-and-strategy-ft-black-box-productions/id1530864140?i=1000557408007
Timestamps
00:00-1:59 – Intro
2:00-3:53 – Changes in the industry
3:54-09:11 How involved they get with client strategy
09:12-19:38 – Josh talks about his business partnership + How they started to grow
19:39-20:27 – SEO
20:28-26:39 – Inbound leads
26:40-28:50 Challenges faced growing the business
28:51-32:26 The Fun Machine
32:27-43:45 Team Structure
43:46-54:20 Growing your company
54:21 – Outro
Social Media
Produced by LAPSE PRODUCTIONS – www.LapseProductions.com
Transcript
00:00:00:14 – 00:00:11:20
Dario Nouri
Welcome everyone to creatives grab coffee. Today we have Josh from Black Box Productions. Black Box Productions is a production company based in Montreal and Toronto. So, Josh, great to have you here.
00:00:12:17 – 00:00:13:14
Josh Usheroff
Super glad to be here.
00:00:15:13 – 00:00:22:06
Dario Nouri
So why don't we just start off with a little intro about yourself. Just tell us how you got into the industry and basically how you got to where you are now.
00:00:23:01 – 00:00:53:18
Josh Usheroff
Sure. So I've been running Black Box Productions with my business partner, Ben, for a little over a dozen years. I always had an interest in in video production and studied communications at Concordia university, I was working freelance as a camera operator for different production companies and decided that once I'd saved up enough money to buy my own camera that I was ready to go into this full time.
00:00:54:13 – 00:01:16:01
Josh Usheroff
So I contacted Ben, who was living in Toronto at the time, and he was working as an editor at CBC. And the two of us got together and started working full time on Black Box from small beginnings, but slowly, slowly, with the focus on just doing better and better work until we're at where we are today.
00:01:17:00 – 00:01:33:07
Kyrill Lazarov
Wow 12 years. That's essentially, you've seen you've seen it all. As soon as the digital revolution started, you guys have seen the slow and steady growth of it becoming difficult from starting to be difficult to create content to make to being virtually easy. You know, it's something as simple as a Zoom video now, right?
00:01:33:19 – 00:01:55:14
Josh Usheroff
Yeah. I mean, I was getting into it like first in context around the time that YouTube was sort of becoming a popular format and that, you know, between that and what was it, the Canon 5d Mark two that really changed the game in terms of the look of the video content that was getting shot. And so we've been doing it for quite a while.
00:01:55:21 – 00:01:58:00
Josh Usheroff
Yes. Was there more of that question?
00:01:59:02 – 00:02:13:24
Kyrill Lazarov
No that was pretty much it like essentially you've seen all the progression that's happened throughout the years. What is like probably one of the most craziest change you've seen that maybe someone might not have noticed over the over the last decade or so?
00:02:14:16 – 00:02:36:07
Josh Usheroff
Well, when we were starting out you know, companies were not relying on video as much as they are today. And so, you know, I think there was a lot more of an argument for why video at the time, like we had to sort of convince people to a certain extent that they could benefit from having a video on their website talking about their company or their culture or the products that they sell.
00:02:36:18 – 00:02:45:10
Josh Usheroff
I mean, obviously, there's some larger, more established companies that already had marketing budgets and were doing things on TV and starting to experiment in social spaces.
00:02:47:10 – 00:03:11:22
Josh Usheroff
But these days, I don't feel the need, or at least not with our clients to convince them why video. I think that and the research is there like video has more engagement than so many other formats. And so, so now at this point, our clients are coming to us and it's really like how can we use the video to best achieve their goals?
00:03:12:17 – 00:03:23:04
Dario Nouri
Mm hmm. It's gotten more so from like, you guys just need a video to like you guys need more strategic videos to help with your marketing purposes.
00:03:23:18 – 00:03:39:10
Josh Usheroff
Exactly. I mean, so much of it is just figuring out what are their clients objectives and who is their audience. Those do like from any new client that we're working with. Those are the first two things that we ask is really like, what what is the purpose of the content that we're trying to create and who is it geared towards?
00:03:39:19 – 00:03:53:10
Josh Usheroff
And then from that, that is going to inform the creative treatment, but also the distribution platforms or whether or not it's going to be on social or YouTube or broadcasts. Know, all of those things come into consideration.
00:03:54:06 – 00:04:12:10
Dario Nouri
How involved you get on that front, like on the strategic front of like where they should be or what type of content they should be creating, where they should be posting it and all that because it's easy to kind of get a little too involved with that. And then at that point it's like, are you doing more marketing services or video?
00:04:12:10 – 00:04:17:10
Dario Nouri
Because it's like there's like a fine line that we tend to kind of tread kind of closely at times.
00:04:17:21 – 00:04:41:16
Josh Usheroff
Right. Well, I think that in many ways we are a strategy first production company in the sense that like we have to have a clear understanding of what the objective of the content is before we go into the creative and the execution. That being said, most of our clients at this point are sophisticated enough or have the resources that they know what the distribution channels are going to be.
00:04:41:16 – 00:05:09:22
Josh Usheroff
And then it's just a matter of making sure that our creative fits with that so we do not handle after the content is created and delivered. We don't handle the the, let's say, digital marketing side of things where we're actually placing ads or placing the content. Often we're either working with agencies that have those capabilities or our clients have other partners for that.
00:05:10:07 – 00:05:23:18
Josh Usheroff
So we're focused on the video production side of things. That being said, like you have to have the right format for the right medium. So that's where that kind of strategy informs the work that we're doing.
00:05:24:01 – 00:05:42:13
Kyrill Lazarov
So essentially the most of the projects that you guys work with are like projects where the client has already pretty much figured out the marketing. They have the plan, they know what they need to do. They just need to get the video created and they come to you to kind of execute that and like help figure out the creative for that specific for that specific project.
00:05:42:13 – 00:05:42:19
Kyrill Lazarov
Right?
00:05:43:16 – 00:06:16:11
Josh Usheroff
No, not always. In fact, I would say sell half of the clients that we're working with or certainly like when we're working with an agency, the agency has already done a lot of that strategic legwork and often creative legwork. They know more or less what the project is going to be. And then, yes, they're relying on us mostly for our technical expertize, for our ability to sort of, you know, deliver on the on the creative and make sure that it looks good, sounds good and, you know, ticks all the boxes but we're we also work with clients where they give us a general brief.
00:06:16:12 – 00:06:46:16
Josh Usheroff
We have a new product, here's what it is, here's who we think our audience is going to be how do you recommend we create a video? Like what video is going to resonate best? Sometimes they'll know what the distribution channels are going to be beforehand. I'm thinking of like two separate brands specifically that we worked with. One was Yokohama Tires, and they really wanted to develop an awareness campaign so we helped them to find out specifically who their customer was, who the audience they want to target is.
00:06:47:03 – 00:07:11:13
Josh Usheroff
What does the awareness campaign mean to them? And also, like, how much are we going to incorporate product features into it? Another campaign we were working on was with Mattel for a toy called Breakout Beasts. Which was like an action buildable, I want to say action figure, but a buildable toy, that slime and each one is a different beast.
00:07:11:20 – 00:07:40:21
Josh Usheroff
And so and that target audiences is like young boy is mostly like seven to ten year old boys that are going to be adventurous love slime, have lots of energy, that kind of thing. So for that campaign, again, it's figuring out like, what is the story? We're going to tell it to get these kids excited about this toy and and so we built a whole backstory about like this kind of Indiana Jones type character that's like exploring through a cave and discover these eggs.
00:07:41:02 – 00:08:02:13
Josh Usheroff
The toy comes in a plastic egg covered in slime and then like cobwebs and then opens it up and, you know, is excited playing with the toy. So it's not just like, here's this toy and here's how you play with it, but like what, what what story can we build around that to achieve our client's objectives of announcing this new product launch and and getting kids excited about the product?
00:08:03:16 – 00:08:20:09
Kyrill Lazarov
Did you keep it when coming up with the creative for that? Did you kind of refer back to like the nineties toy commercials that were around where it was like extreme zoom ins, you know, wham, bam, kaboom, you know, like just action and for like 15 to 30 seconds.
00:08:20:22 – 00:08:40:20
Josh Usheroff
I mean, we've, we've done a fair bit in the, in the toy space. I think we'll get to that a little bit later. When you start thinking talking about business stuff, because we're sort of launching a new venture specifically for the toy and gaming industry. But you know, yes, attention spans are short. This was the 22nd spot, you know, one frame lasts more than 3 seconds.
00:08:40:20 – 00:09:04:10
Josh Usheroff
Probably its average is about 1.2 seconds or something like that. So it's definitely fast paced, but we're not necessarily throwing back to an esthetic that's, that's nineties like we're using the, the current toys and my toys, I mean the camera equipment that I get to play with, but like probe lenses and stop motion building up the toy and all kinds of things like that.
00:09:04:10 – 00:09:13:12
Josh Usheroff
So we're still making it sleek and contemporary but definitely like fast paced and fun. Interesting.
00:09:14:20 – 00:09:31:01
Dario Nouri
When you tell us a bit about the relationship you and your business partner have, because it's often we don't find a lot of other companies that have like a partnership. It's usually just sole proprietorship that maybe expands later on. Or it might be like I think we've just seen that or we've seen like three plus partners.
00:09:31:19 – 00:09:58:20
Josh Usheroff
So Ben and I have, I think, a bit of a unique story because we met when our parents were pregnant with us. Our parents met going to like Mommy and me or some kind of like prenatal class together. And they lived on the same street just like a block away. So we've known each other and have playdates literally since we were born.
00:09:59:07 – 00:10:02:20
Dario Nouri
And so you're not partners. You guys are brothers, basically.
00:10:03:06 – 00:10:18:10
Josh Usheroff
It's pretty close to that. Yeah. And so but we were friends for a long time and our interests sometimes overlaps. And he was studying filmmaking in Toronto I think it was at Ryerson at the time.
00:10:19:03 – 00:10:20:06
Dario Nouri
Over rising threats.
00:10:20:21 – 00:10:41:09
Josh Usheroff
And and I was studying communications at Concordia, and then he was working in CBC News as I mentioned, and just like an incredibly fast editor, I got to sit in on the, on the in the newsroom with him basically as he was getting the clips that are going to air in the preview of the 6:00 news, you know, like tonight's top stories.
00:10:41:17 – 00:11:04:16
Josh Usheroff
And so we were hanging out there for a little while and not much was happening. And then I think like 20 minutes before air, someone came in and was like, Okay, here's the story and here's what we're going to do. And he would pick the highlights and chop it up and send it on the server. And like it was on air you know, seconds later, basically like, like 60 seconds before he finished the edit or after he finished the edit, it was online or on TV.
00:11:04:24 – 00:11:22:11
Josh Usheroff
So I was like super impressed by his editing skills, storytelling ability. Longtime friends, we share like a lot of similar interests. So when I wanted to go into this more full time, we started talking about like, how can we turn this into a business that we work in together?
00:11:23:10 – 00:11:26:24
Dario Nouri
So how did you guys turn it into a business like it? Was that? What was that like?
00:11:27:16 – 00:11:56:04
Josh Usheroff
Well, in the beginning, we were just sort of saying yes to everything and figuring out what what it was that we were going to do. I mean, within our organization at this point at least, I am the producer on most of the projects. I help coordinate things with clients, establish that strategy sort of off the top. And then I'm also the cinematographer, so not everything, but most of the time I'm the one lensing behind the camera responsible for the visual esthetic.
00:11:56:11 – 00:12:19:04
Josh Usheroff
And then Ben, on the other hand, is is very creative and much more of a storyteller. So he focuses on like the content he's the director of a projects usually. And so he's getting the performances out of the actors. And so while I'm kind of like not listening to what they're saying during the interview, we're making sure that there's no weird reflections or shine.
00:12:19:09 – 00:12:31:15
Josh Usheroff
He's focused on the content and doesn't think about the esthetic as much. And then he also leads our post-production. So he's often editing on our bigger projects. But then we have a team of editors that he oversees as well.
00:12:34:07 – 00:13:00:15
Josh Usheroff
So yeah, when we were starting out, we were trying to find our way and find some gigs. I can tell you a couple stories about like projects in the early days that, you know, we achieve like only My Hustle. So the first one was there was someone who posted online looking for a Steadicam operator for shoot. It was on Craigslist.
00:13:00:15 – 00:13:19:00
Josh Usheroff
This is like how how I was finding work in the earliest days, right? Someone post on Craigslist. They need a Steadicam operator. I'm not a Steadicam operator, but I wrote back anyways and I just basically said something to the effect of like, I'm not a Steadicam operator, but I do have a very steady arm. Would you like to meet this guy?
00:13:19:22 – 00:13:39:12
Josh Usheroff
And he brought me in for an interview, and we talked for a bit. He was starting up this, like, home and garden style show was like half hour episodes. And he I realized that he probably didn't know what a Steadicam operator was anyway. And I had more production experience. He was kind of had, like, this vision for the production.
00:13:39:21 – 00:14:01:20
Josh Usheroff
So we he agreed to work with me. He realized that we could get the shots without a Steadicam. And then shortly after Ben got brought on the project as well, because he needed an editor and a director. So we started working with a few other people. So that's like my first story of just kind of, you know, an ambitious, like, knowing that I'm not fit for the job.
00:14:01:20 – 00:14:24:13
Josh Usheroff
I didn't lie like I wasn't going to pretend that I was a city cam operator if I'm not, but at least, like, trying to get our first foot in the door in different places and and, you know, not being afraid if it wasn't the perfect fit, as long as you're sort of straightforward about what your skills are. That project worked out in the end and, and got us like we were working pretty consistently for probably the first year on that project.
00:14:24:13 – 00:14:52:14
Josh Usheroff
So that was a good sort of start into production. Another thing that I did was I went to like a salon, the O'Malley Ash, which is like a wedding conference, basically, where couples will go to find their photographers and videographers and limos and that kind of thing. And I went to the different photographers that were there and I said, you guys offer video services, I can shoot video for you.
00:14:52:23 – 00:15:08:23
Josh Usheroff
And found someone who was doing wedding photography but didn't have a video team And he started sending me work. And so that was like another just sort of like pounding the pavement, hustling in the early days, trying to find our first gigs.
00:15:09:12 – 00:15:11:09
Dario Nouri
Everyone starts in the wedding scene. And.
00:15:11:16 – 00:15:12:21
Kyrill Lazarov
Yeah, you know, these things.
00:15:12:21 – 00:15:36:09
Josh Usheroff
Are a really great way, especially for documentary camera operators to have a sense of like focusing on what's important or getting the shot that's right in front of you, but have a situational awareness about everything else that's going around you. Like, if you're doing I don't know what shot the book is or cutaways of whatever. And then you see this beautiful moment with the, the flower girl and the bride.
00:15:36:09 – 00:15:52:10
Josh Usheroff
Like, you've got to be aware enough to stop what you're doing. Grab that shot and like, capture all those moments. So yeah, I haven't shot weddings and probably a decade, but it was definitely a great way to sort of get started and and hone your skills as the camera operator.
00:15:52:18 – 00:16:13:06
Kyrill Lazarov
It also, like, really teaches you how to make, like you said, the, the quick decision making, which is so important across other aspects of the business, you know, whether you're shooting at that moment or anything else because, you know, situations is keep changing. Nothing's ever always going according to plan. You can pre-production the hell out of a project.
00:16:13:14 – 00:16:35:04
Kyrill Lazarov
There's always going to be at least one little thing that kind of it's like a like a wrench in the engine, you know, and you have to be able to adapt very quickly make decisions that not only sometimes, you know, fix that solution but also excel past it. And that's like a good kind of. And weddings are like that foundation for a lot of us where we first that was like the first time we actually started to kind of get a sense of how to do that.
00:16:35:12 – 00:16:44:17
Kyrill Lazarov
Problem solving. So, yeah, it's always funny to hear that. It's like everyone, most people have at least started or at least 90% of us right in that scene.
00:16:45:06 – 00:16:55:23
Dario Nouri
Because it's stable work, right? You know, when think dates are for that thing like and it's pretty consistent to them. So that's why a lot of people get into good at the beginning. Plus is a great place to test your gear.
00:16:57:00 – 00:17:00:15
Kyrill Lazarov
Yes. You lens boom. Let's try it out, guys.
00:17:02:16 – 00:17:17:01
Kyrill Lazarov
So after weddings, what was kind of like the next pivot for you? And you said like that's kind of like one of the first few things, especially with that other project, what was kind of like the first transition for kind of getting more consistent like maybe corporate or commercial type projects?
00:17:17:09 – 00:17:45:05
Josh Usheroff
Sure. Like I said, like earlier on, we were really just saying yes to everything and trying to figure out where it was that we fit in. And then over time, you know, I was even from the beginning, I wasn't in a rush to be overnight, like the commercial production company in town or really even, you know, sort of a rush to go beyond the the slow and steady incremental improvement that we were at.
00:17:45:16 – 00:18:15:01
Josh Usheroff
And basically, my attitude was do good work and it will lead to more good work. And so, you know, slowly but surely, we started working more with with agencies. In fact, you had Ian Buck from Notch Video on the first season of your show. And Ian and I worked together quite a bit on projects and I think they were starting notch around the time that we were starting Black Box.
00:18:15:10 – 00:18:47:04
Josh Usheroff
And Ben had worked closely with Ian and then in and I had gone on several shoots together. We went out to Las Vegas for with Samsung during CBS. We went out to Austria for a skiing video with Sport Check So Ian's a totally great dude. And you know, Notch was probably one of the other production companies that we work with are agencies that helped us level up our game and, and work more in the commercial space and working with agencies.
00:18:48:07 – 00:19:08:16
Josh Usheroff
And then I guess overtime, good work leads to more good work sort of ended up working out our portfolio, got better that would attract new clients. I'm not sure exactly how we've done it, but we have fairly good SEO. Like, I think if you Google video production Montreal today, we're probably on the first page.
00:19:08:24 – 00:19:18:18
Dario Nouri
And so that's how I found you guys when I was looking for guests in Montreal. That's, that's exactly what that video production Montreal now you're right, it's opened up a bunch of pages.
00:19:19:05 – 00:19:37:20
Josh Usheroff
There you go. Yeah, I was actually I was curious to see how you found us, but that's exactly right. So a lot of the people that are finding us these days, you know, they're searching for a production company, probably for a specific project in Montreal. They see some of our work and they like what they see. And so they reach out and and we start working together.
00:19:38:04 – 00:19:43:23
Dario Nouri
Did you do a lot of work for us? Here, or did you just do a little bit? And over time, it just kind of accumulated to what it is now?
00:19:45:03 – 00:20:13:00
Josh Usheroff
I don't know that we specifically did any work for SEO. There were a couple of projects that we worked on over the years, including like a film and some other things that would get press and that would lead to inbound links from reputable news sources, which I think helps with SEO. We do occasional blog posts, but not nearly as often as I would like or as we should have definitely got a backlog of things to post.
00:20:14:13 – 00:20:25:17
Josh Usheroff
So I can't say. I can't say for sure exactly why it is, but I don't know. For some reason Google exists and I don't want to change that.
00:20:25:22 – 00:20:41:07
Kyrill Lazarov
No, that's that's great. How would you say like in terms of like the kind of inbound leads that you have? Is it mostly through referrals or people you've worked with in the past, or would you say that the SEO is really kind of helped you guys generate your business?
00:20:43:17 – 00:21:05:15
Josh Usheroff
Yeah. In terms of new projects, I feel like a good chunk of that comes from inquiries through email or from our website. They've seen our work and they want to get in touch. You know, obviously we have like a fair amount of repeat business with with either the agencies or the companies that we're working with on an ongoing basis.
00:21:08:04 – 00:21:21:09
Josh Usheroff
And I suppose, although I don't really track it some referrals as well, but from like the out of the blue, I have never heard from them before. And they don't know who we are. It's, it's mostly through our website and for.
00:21:21:16 – 00:21:36:24
Dario Nouri
For the ones that are contacting you on your website. How did Do you have a good method for because you are on the first page, so you must be getting a lot of inquiries. I'm just wondering, do you have a good method for filtering out like good leads versus bad leads?
00:21:38:01 – 00:22:24:08
Josh Usheroff
I think it's pretty obvious from the inquiry coming in, like if, if it's a one line email that says, I have a new product and want to do a 32nd video, how much is this cost? That's usually pretty low. Like low potential in the grand scheme of things. And like we get a fair bit of music video requests to the generally, like after we explain sort of what the minimum budget for music video is, they they realize that that's probably not realistic but we do get a fair bit of like I think it's fairly easy to tell, you know, if it's a legitimate company or an agency and they're talking about a specific project, most of
00:22:24:08 – 00:22:45:16
Josh Usheroff
the time they have a good sense of, of what they need and maybe even in the email a sense of what their target budget budget is already So sometimes I'll schedule I'll send an email with a couple of follow up questions just to clarify what their needs are. But if that I think there's a good fit, then I usually jump right in to scheduling a discovery call.
00:22:45:16 – 00:23:06:19
Josh Usheroff
Hey, we'd be happy to work with you. Like let's schedule a call to to discuss what your project is. More specifically, Personally, I find that having one 30 minute conversation where you can talk face to zoom with someone and sort of go over, you know what their project objectives are, what the time frame is. Go through a whole bunch of questions.
00:23:06:19 – 00:23:26:10
Josh Usheroff
Try to get a sense that if they already have like a budget earmarked for the project or not, that's far more efficient and also gets you a bit of that personal relationship than just responding in an email with all of the information. So it's rare that will you know, we'll go back and forth via email and that's another way to qualify people.
00:23:26:10 – 00:23:39:20
Josh Usheroff
If someone emails me and I write back saying, Hey, sure, let's schedule a call to discuss further if they don't want to take 30 minutes to hop on a call to discuss their project that they're asking about them, they're probably not that serious about it. Or just shopping for price.
00:23:40:04 – 00:24:02:17
Kyrill Lazarov
Yeah. And the the reason for that is because when you're, when we're asking for people to jump on calls with them, what people don't realize is that that is a a subtle way of us to kind of even understand how focused they are on this project and how much energy and effort they're putting into it, because there's nothing worse than a client reaches out.
00:24:02:17 – 00:24:27:06
Kyrill Lazarov
They want you to develop a project. You know, we go through so many steps to kind of make it happen, but they're there. Their mind is kind of a little bit elsewhere. Sometimes, and that's also sometimes where the budgets are a good way to kind of determine who is as focused with it. Right? So like if a client wants, say, as you said, a music video for like $1,000, maybe they're not as confident in the project or like know what they need at that point.
00:24:27:06 – 00:24:41:01
Kyrill Lazarov
Whereas if someone is with 20,000, it's like, here's our plan. This is what we have. This is what we want to do. We need your help to help to get us to execute it. Right? So it's it's kind of like a good way to distinguish things, even something as simple as let's just hop on a quick 30 minute call.
00:24:41:01 – 00:24:41:23
Kyrill Lazarov
It can tell you a lot.
00:24:42:11 – 00:25:02:23
Dario Nouri
But you got, you got to vet them before you get to the call to that's it. We started focusing on our SEO in 20, 21 and about halfway through the year we started to notice like an increase in the amount of inquiries, right since we were climbing the Google ranks and it was great at first because they were like, oh great all these leads are coming and yada yada.
00:25:02:23 – 00:25:22:14
Dario Nouri
But then after a time we're like man like a good chunk of these are like bad leads right now to figure out a way to like yeah. So we're trying to figure out a way to filter them out. And what we've started to do is on our contact page, like we immediately asked them for the budget before they submit and over there, like we said, like our minimum amounts for our projects.
00:25:22:14 – 00:25:24:12
Dario Nouri
Right? And we've been added like other stuff.
00:25:24:12 – 00:25:25:20
Kyrill Lazarov
And there like a few questions.
00:25:26:05 – 00:25:44:06
Dario Nouri
Yeah. Industry. And there's two other things I want to add, like purpose of the videos. Just so like before you even get to the call, we kind of like already know, okay, they're in this industry, they need this video for that reason. And this is what their budget is. And obviously, like the leads have gone down because of that.
00:25:44:06 – 00:25:49:02
Dario Nouri
But at least like the ones that are reaching in now, they're qualified leads right.
00:25:49:19 – 00:26:10:08
Kyrill Lazarov
And to your point, Josh, you mentioned, you know, like the sometimes you get the inquiries which are just simply like, hey, we're doing a 32nd project or we want to do a 32nd video. How much would it cost just to kind of like see the process ourselves? We, we would basically be reaching out to them to kind of figure out, jump on a call with them.
00:26:10:16 – 00:26:20:02
Kyrill Lazarov
And at that point we realized very quickly it's like they, they really don't know too much about what they want to do, especially when we asked them like, what do you want to do with this video? And they're like, oh, we we just did a video, you know, so.
00:26:20:02 – 00:26:20:23
Dario Nouri
We just need a video.
00:26:20:23 – 00:26:33:01
Kyrill Lazarov
Yeah, it was too much us chasing them, you know, it's like, there's only so much we can do if you don't know what you need this product for. Then like we can tell you what you need this product for. 100%, right? At least you need to have an idea.
00:26:34:05 – 00:26:36:18
Josh Usheroff
Totally. Yeah, totally.
00:26:36:18 – 00:26:44:22
Dario Nouri
In agreement So what are you saying? What would you say are some of the challenges you faced growing your business?
00:26:46:21 – 00:27:37:11
Josh Usheroff
So I think for a long time I was focused mostly on, like I said, doing good work in fact, like until recently, like if I sort of divided, looked at my time and divided it up probably. You know, I think it's fair to say that maybe 90% of the of my work was focused on the project. So that could be anywhere from the, the like proposal stage of working with the clients to the the actually production and making the video or creative development, you know, editing all the way through delivery we were focused on the project specifically, and sometime probably within the last year, my mindset sort of shifted to focusing just on doing good work
00:27:37:11 – 00:28:13:12
Josh Usheroff
to like maybe I should actually focus on growing this business. And so that has been I guess a slow change in a certain sense, but I've been very focused on just absorbing as much information as possible about how I can grow this business, how I can build the team that to work with, how we can. We basically, like I said, most of our inquiries or most of our projects come from inbound leads because we've been fortunate enough to have good SEO.
00:28:14:16 – 00:28:51:17
Josh Usheroff
But you know what? Would it look like if we started to do some outbound lead generation, or what if we were more focused about the kind of clients that we want to work with? So whereas earlier on, you know, I think we sort of said yes to everything and had a very wide net of services that we offer at this point, I'm I'm getting to the point where we want to say no to more and more so that we can be very focused about the kind of people that we serve, the kind of projects that we're doing, and making sure that that we develop, I guess, a deep expertize in those sorts of projects, which is
00:28:51:17 – 00:28:58:05
Josh Usheroff
part of the reason why we're we're launching this new brand. I don't know if now would be a good time to talk about that or not, but.
00:28:59:04 – 00:29:02:01
Dario Nouri
Well, this episode is going to air in like a month if you want to.
00:29:02:09 – 00:29:03:09
Kyrill Lazarov
It'd be the launch.
00:29:03:15 – 00:29:07:18
Dario Nouri
Saying if you're launching within a month, then that is the perfect time to say it. You heard it here.
00:29:07:18 – 00:29:08:13
Kyrill Lazarov
First maybe.
00:29:09:14 – 00:29:35:03
Josh Usheroff
You heard it here first. So, you know, we've over the years we've done a lot of work with with entertainment brands, toy companies, video game companies. And so we in, in like reading the literature out there, listening to the podcasts from other experts over and over, you hear people talking about develop a specialization, find your niche that way.
00:29:35:03 – 00:30:04:06
Josh Usheroff
You're more clear when you're speaking to your audience. You have a better understanding of of the category that you're working within. And so we are launching a brand called The Fun Machine and it's specifically targeting the toy and gaming industry. And, you know, the idea is we help you sell fun you know, basically So so that's sort of been a project that we've been working on for a couple of months.
00:30:04:06 – 00:30:26:16
Josh Usheroff
The website is up now, and we're working with someone to sort of get us in front of the our ideal prospects. So they're going to be doing some outbound emailing and reaching out to people on LinkedIn and sort of say Hey, here's a new brand that we're working with or here's a new service that we're offering. We think it will be a good fit for your brand.
00:30:26:16 – 00:30:28:24
Josh Usheroff
Can we talk about it?
00:30:29:22 – 00:30:52:02
Kyrill Lazarov
Anyways, going back to like The Fun Machine, that sounds really cool. And you know, the one thing a lot of people talk about, like you mentioned, is it's so important to niche down your business. If you really want to grow it to such a massive level, it's really hard to do that quickly when you are doing a little bit of everything because yeah, you can grow from that, but it's going to be a slower growth.
00:30:52:02 – 00:31:14:10
Kyrill Lazarov
Whereas since you guys recognize that you do a lot of work within entertainment companies, video games, toys, you know that definitely means that you guys have a very kind of like skill set for that type of work. So that sounds like a very exciting type of project that you guys are launching now. Is it going to be kind of like like another production arm kind of from Black Box, or is it going to be something completely separate from it?
00:31:16:14 – 00:31:17:04
Josh Usheroff
You know, the.
00:31:17:04 – 00:31:17:17
Dario Nouri
Way I look.
00:31:17:17 – 00:31:42:15
Josh Usheroff
At it, at least on the back end, is it's a different door to walk through for our clients. So in the end of the day, the kind of creative process that we're going to take is very similar to the work that we do with those kinds of clients already. Whether or not so it like it will have its own website, email address, communications platform esthetic for sure.
00:31:42:15 – 00:31:59:08
Josh Usheroff
Like the proposals will look different targeted specifically towards that audience. But at the end of the day, you know, it's it's working with our creativity, following our same kind of process so yeah.
00:31:59:08 – 00:32:20:19
Kyrill Lazarov
It's basically the same team. Like it's basically you guys are the same team but working under two basically to kind of brands under the same umbrella whereas like you're going to get leads coming in through black box and you're going to get leads coming in through the fun machine. And I guess, you know, at one point they're going to battle it out over who gets to work for which, which team.
00:32:21:03 – 00:32:24:15
Kyrill Lazarov
But now that sounds great, you know, and splitting.
00:32:24:15 – 00:32:29:24
Dario Nouri
How are you splitting that up, though? Because you get how big is your team, first of all? So it's you know.
00:32:31:22 – 00:33:09:08
Josh Usheroff
At the core, it's just the two of us, myself and my business partner, Ben. And then we sort of scale up to the needs of the project. So, you know, since college, certainly teams have gotten a bit smaller like on average or in the like five to ten for the most part in terms of crew on set you know, before that, one of the last projects that were in 2019 was with Air Canada and Cirque du Soleil and for that project we had a call sheet with like 75 people on it and we screwed up within a week.
00:33:09:23 – 00:33:21:12
Josh Usheroff
So, you know, we we, we can scale to the needs of, of the production, but at its core it's a very small team of freelancers that we work with on a regular basis.
00:33:21:12 – 00:33:35:19
Kyrill Lazarov
How much of that was talent versus crew? I'm very curious because I know Cirque du Soleil obviously has all the we, I saw the, the, the Air Canada ad you guys made for that and that was really cool. So I knew that there was going to be a big team behind, but I didn't expect 75.
00:33:36:13 – 00:34:00:08
Josh Usheroff
It was not I mean I received a phone call about that on sort of a Friday a week and a half before the shoot. We got the green light on the Wednesday a week before filming on the following Wednesday. And so we went to the location with the director, a producer and myself and we were filming in the Air Canada airplane hangar in Montreal.
00:34:00:08 – 00:34:21:03
Josh Usheroff
There was going to be a Dreamliner airplane that was in there that we were going to be filming. I think we needed three 20 foot cube trucks full of gear to light the space. We had these helium lights that we brought in so that like they could kind of cast a nice even light across the whole space giant semis.
00:34:21:12 – 00:34:21:24
Josh Usheroff
It was a.
00:34:22:03 – 00:34:22:20
Dario Nouri
It was a big.
00:34:22:20 – 00:34:51:03
Josh Usheroff
Set up, big production. And the challenge really was that we had a very short time within the space. I don't remember exactly what the schedule was now, but we got in there at five or six in the morning and the plane needed to leave at 3 p.m.. So so we had to like set up and get all these shots and plan that if at any point in time another airplane needed a repair or maintenance check that we would have to stop the production and let you know, Air Canada, this was an operational hangar.
00:34:51:08 – 00:34:58:06
Josh Usheroff
Let them deal with whatever else they needed to do to get everyone flying safely on their journeys.
00:34:58:19 – 00:35:05:16
Dario Nouri
Please tell me it took a beats like someone you guys did. Beats like a beats video for this. Please tell me that it is. This is a crazy.
00:35:05:23 – 00:35:06:17
Kyrill Lazarov
Yeah, I.
00:35:06:21 – 00:35:07:17
Josh Usheroff
Think we.
00:35:07:17 – 00:35:08:22
Kyrill Lazarov
Just they had no ties.
00:35:08:22 – 00:35:09:07
Josh Usheroff
To had.
00:35:10:14 – 00:35:29:22
Kyrill Lazarov
Every hand on deck there are 75 people like I think how long because of that those logistics typically one thing whenever we're talking with planes is about setup time for obviously any any productions and things like that right and I'm guessing you probably needed the 75 people so that you can get everything set up with what within an hour 2 hours.
00:35:29:22 – 00:35:32:12
Kyrill Lazarov
How long did it roughly take to get it set up the way you needed to fill.
00:35:33:07 – 00:35:58:10
Josh Usheroff
I was I don't remember for sure so don't hold me to this but probably a couple of hours for load and set up most of the equipment we were able to drop the night before, but just in the truck like checked and drop. So it was already in the space and then probably a couple hours between setting up wardrobe and getting talent through that and makeup and, and getting the lighting set up.
00:35:58:10 – 00:36:19:20
Josh Usheroff
We started, you know, we filmed it strategically. I think we started in the airplane first, so that required less lighting because we could just have a big 20 by 20 bounce with an of coming through the window kind of thing. But then as we're filming that, the team would be setting up on the outside as well. It was it was a nonstop projects for sure.
00:36:20:12 – 00:36:31:20
Kyrill Lazarov
Wow. Yeah. Meanwhile, some clients would come to you with like, yeah, can you do that all 32nd project for like, well what, like $5,000. That should be fine, right? Like can you make this.
00:36:34:03 – 00:36:34:05
Josh Usheroff
It's.
00:36:34:09 – 00:36:46:11
Kyrill Lazarov
Like people really don't realize how many, how much goes, goes behind a project like dude, I knew that there was a lot that went into that one, but even you still surprised a 75 people, you know, like there's a lot that goes behind the scenes.
00:36:46:24 – 00:36:50:13
Josh Usheroff
Yeah, that was, that was a wild one for sure.
00:36:50:16 – 00:36:55:15
Dario Nouri
But just doing payroll for that too it's like all of interacts after interacts.
00:36:55:24 – 00:37:00:04
Kyrill Lazarov
Well he hired someone part of the 75 people would just deal with that right.
00:37:00:05 – 00:37:00:21
Josh Usheroff
It management.
00:37:00:21 – 00:37:05:01
Dario Nouri
Yeah all you do is you just pay people at the end of the project. That's all you do.
00:37:05:09 – 00:37:09:01
Kyrill Lazarov
I can feel the stress on this setting already. I get a lot.
00:37:09:02 – 00:37:17:21
Josh Usheroff
I mean the stress was really having my name or black box on the insurance certificate. When you're dealing with an airplane like.
00:37:19:08 – 00:37:19:12
Dario Nouri
It's.
00:37:20:06 – 00:37:23:04
Kyrill Lazarov
The stay away from the plane, don't touch it. You know all the details.
00:37:23:11 – 00:37:43:01
Josh Usheroff
That's for sure. For sure. No, I mean, there was like significant safety protocols in place and we couldn't touch it. And if anyone touched the airplane on the outside with anything, we had to report it inspected and the plane would get pulled from circulation until it was fully checked. You know, like is that people's lives are at stake in that sense.
00:37:43:01 – 00:37:44:10
Josh Usheroff
So you got to take that very seriously.
00:37:44:13 – 00:38:03:02
Kyrill Lazarov
Oh, absolutely. I, I can imagine, like how I mean, with such a quick timeframe of like one week, like hiring people alone is, is a whole process of consuming. It's time consuming. But like just now you're mentioning also the insurance aspect of it is like how did you go about getting that set up? Like, did they basically come to you and tell you this?
00:38:03:03 – 00:38:06:18
Kyrill Lazarov
These are our rules. How do you ensure yourself? Like, I'm just I'm like.
00:38:07:02 – 00:38:09:14
Dario Nouri
Well, he just has a call to the insurance company.
00:38:09:14 – 00:38:09:21
Kyrill Lazarov
Yeah.
00:38:09:21 – 00:38:21:20
Josh Usheroff
I mean, we have we have annual production insurance. I think it was just a matter of putting Air Canada and some other people as additional insured. I don't think the insurance the insurance part of it was was the easy part.
00:38:22:04 – 00:38:23:15
Kyrill Lazarov
That was the easy part. Yeah.
00:38:24:07 – 00:38:26:03
Dario Nouri
You just have to call your insurance. So that's it.
00:38:26:07 – 00:38:49:11
Josh Usheroff
I'm trying to remember there was a surprise that came up. I think we they added well, it features a the video features of a young girl. I think that that was not in the original brief. And we we started casting for that person on the Saturday like so like the the Cirque du Soleil performers were part of the initial concept and came with the production.
00:38:49:11 – 00:39:08:04
Josh Usheroff
The airplane came with the production location came with the production. But but then it was like, you know, we want to follow it. We don't just want to follow the performers, but we want to follow a little a young girl on her like journey through this, like world of wonder that we're creating. And so that was like a bit of a last minute idea that we sort of added.
00:39:08:04 – 00:39:14:22
Josh Usheroff
And then we had to deal with the the casting and approval of that and then, of course, the wardrobe and, and all of it.
00:39:15:06 – 00:39:38:23
Kyrill Lazarov
That was a good creative choice because it really it really allowed, allowed the viewer to kind of like almost like follow someone as as if they're also going through the journey. It's one thing to essentially, you know, just kind of like see a lot of like cool burlesque dancer starting up burlesque, Cirque du Soleil dancers, you know, and performers just kind of doing all their routines in a hanger, right?
00:39:38:24 – 00:39:56:23
Kyrill Lazarov
Because it's so it would almost have no context at that point. Right. Whereas if you're following kind of like someone going traveling in an airplane, you know, going through a journey that's also like a part of it, you know, like Air Canada can take you anywhere. So that was a very good creative choice. We like that a lot Thanks.
00:39:56:23 – 00:40:19:16
Josh Usheroff
Yeah, I wish I could take credit for that. The creative side of things, that was sort of I was more for that project, really. Line producer, bringing together the crew and the and the production team to make it happen. And the creative was coming from an agency called Wasserman based in Toronto, and Ian McMillan was the very talented DP on that project.
00:40:19:22 – 00:40:24:12
Josh Usheroff
And Joe McLaren was a person who contacted me. He's a producer based in Toronto.
00:40:25:02 – 00:40:25:21
Kyrill Lazarov
Nice, nice.
00:40:26:01 – 00:40:27:21
Dario Nouri
Is that the biggest project you've ever done?
00:40:31:05 – 00:41:20:07
Josh Usheroff
No, maybe the most body count for a single day. I'd have to think about that. But we also did this project for Fear The Walking Dead, that that was like a month of filming Content Day. There's a company in Montreal called Geotech that does these kind of like interactive attractions. And so we were tasked with producing a bunch of content that would sort of go in like an escape room, theater, video game, installation kind of thing, where for Fear, The Walking Dead so we were filming with zombies and military officers, officers with like live machine guns we set a car on fire.
00:41:21:18 – 00:41:45:21
Josh Usheroff
You know that that project was another one that came up very quickly. We had a very short time between when we were like greenlit to go and when it actually happened and had a lot of moving parts in it because there were, I think nine days of filming in all with all the different scenes that we needed to capture that, that would then be used in the installation attraction.
00:41:46:09 – 00:41:55:14
Kyrill Lazarov
Wow. And there's just like hearing all these like massive projects you guys have done just kind of makes me think, oh, I guess the projects we've done, they're really a cakewalk. They do.
00:41:55:14 – 00:41:59:01
Dario Nouri
Look certain. They do like a lot smaller a lot smaller.
00:41:59:01 – 00:42:23:02
Kyrill Lazarov
It's like we did this one, big one in January, which was like four weeks, practically almost four weeks straight of filming that we were doing. And we had to produce 80 videos for this one client and all to be done basically by mid-February. And we started like January 10th. They came to us like a few weeks prior and and then that's and then we had to hire actors, we had to bring in talented to get it all put together.
00:42:23:02 – 00:42:37:09
Kyrill Lazarov
But then we were like, Darren, I filming every single day, ed around the clock churning, churning out the videos as well. And we thought that was big. But we have 80 videos, we have 80 people in a different yeah.
00:42:37:09 – 00:42:53:22
Josh Usheroff
I mean like, like I said from the beginning, it was sort of about building up confidence project by project, doing bigger and better work every time. Like I'd be lying if I said that with either of those large projects. I wasn't a little bit stressed going into it about like, are we actually going to be able to pull this off?
00:42:53:22 – 00:43:16:06
Josh Usheroff
And the caliber that we want to just in the timeframe more than anything. But you know, over the overtime you you understand how production should work and and best practices and you build a team of people that you surround yourself with so that so that they know more than you do for like for those bigger shoots. I was an operator in the helium lights.
00:43:16:06 – 00:43:39:09
Josh Usheroff
We have a guy that that does nothing but helium lights. He's got a helium light rental company, you know, or if you you need I don't know, any kind of specialized skill like the right thing to do is bring in the right people for the job and and wear the hat that you should be wearing is pretty sure which is basically just making sure that everything is in place as it should be and and going to be running on time.
00:43:39:09 – 00:43:40:13
Josh Usheroff
So people have what they need.
00:43:41:07 – 00:43:44:00
Dario Nouri
But they just run back. Oh, sorry. No, no.
00:43:44:00 – 00:43:45:14
Kyrill Lazarov
There you can you can go.
00:43:46:05 – 00:44:06:23
Dario Nouri
I was just going to go back to how you said you're trying to change your focus more to towards like growing your business. So I just wanted you to kind of elaborate more on that. I think we touched on it a little bit. So you're saying like you wanted to grow your team, but what else aside from growing your team are you looking to do?
00:44:06:23 – 00:44:12:03
Dario Nouri
And I think it's going to be a little more trickier for you now, too, since you are starting a separate company. Right.
00:44:12:13 – 00:44:39:18
Josh Usheroff
Right. Well, I think I can start just by giving your listeners some recommendations for things that have helped me start to think about the business I've started listening to a podcast called Two Bobs. It's by these guys Blair Ends, who wrote the Win Without Pitching Manifesto, and David C Baker, who wrote a book called The Business of Expertize.
00:44:40:02 – 00:45:11:19
Josh Usheroff
These guys are really focused more on how to run a creative agency, and so less specifically video production, but more agencies in general. But a lot of their advice has helped me think about how we approach our businesses. And another book would be traction I don't know if either you guys are familiar with traction, but it's another great book for starting out a business like I wish we had looked the sooner, but it just it lot.
00:45:11:22 – 00:45:31:00
Josh Usheroff
It's how we decided that the Fun Machine would be a good initiative for us. And it just looks at like, what are your skills? What are your values? What is your vision? Where where do you want to go? And try to try to more clearly define the direction that you're going and then define the steps that it's going to take to get there.
00:45:32:08 – 00:46:14:12
Josh Usheroff
So those are some of the resources. Another book which I started reading but haven't finished just the MF, but again, it's about the idea of you can't be wearing the creative hat and the business hat and the the executing hat at the same time that you're trying to be the visionary that that so all of all of those different resources I think have been informing what it is that I, I see as next steps we need to take and one of the first things that we did was just like, look at what are the processes that we're doing now and how can they be done more efficiently and how can we kind of develop a playbook
00:46:14:12 – 00:46:33:24
Josh Usheroff
so that they can be repeated without steps being forgotten and you know, if, if a few years ago you would ask me, you know, like, what do you do a black box? I would have said, well, we, you know, pre-produced where we figure out what the idea is and then we shoot it and then we added it and that's basically it.
00:46:34:07 – 00:47:00:15
Josh Usheroff
But when you start looking at it like even just as I mentioned, the discovery call or the like, how to respond to a new inquiry, sort of what is our research process like where we're trying to better understand the brand and their positioning the creative process? Obviously, like the production side of things, I think we have nailed down like we've been doing the production side long enough that that part I can sort of do in my sleep.
00:47:00:16 – 00:47:20:17
Josh Usheroff
Like really I live and breathe it and I don't have to think too hard about the production itself. But what I talk when I'm talking about like operating, focusing on the business is what are all the other things around it that need to take place so that we can, you know, succeed in the productions which are really what the core of our business is.
00:47:22:19 – 00:47:44:01
Kyrill Lazarov
Well, usually you've basically broken down for everyone how like not necessarily the blueprint, but basically all these great resources that you can kind of learn different techniques and styles. And like the one interesting thing about, you know, like talking to a lot of other business owners like yourself in the in the production industry is like we all have our own different paths in terms of like what's worked and what has a work.
00:47:44:01 – 00:48:02:16
Kyrill Lazarov
We all do video production. You know, like you said, it's almost like we can do it in our sleep. Obviously, we could always keep improving, but you know, everyone's growth is going to be a little bit different. Yes, you can take elements from one from one company as an idea, some from another, you know, and learn how they did well.
00:48:02:16 – 00:48:21:09
Kyrill Lazarov
But it's not going to necessarily work exactly the same for you, which is it's just always interesting to kind of hear, you know, like where people get their inspiration or where they would learn, you know, it's like if like for us, like when we were first learning how to do video production, we all remember Devin Supertramp in like 2012, 2013 when he was like getting the whole video craze.
00:48:21:09 – 00:48:35:03
Kyrill Lazarov
I was like one of the first bits of inspiration we had when we were first starting out. So like everyone has a different one. And sure, nowadays there are people like Peter McKinnon who are like a lot of people, like first content creators on YouTube that they learn from. Right?
00:48:35:23 – 00:49:01:14
Josh Usheroff
Totally. Another thing for me, I think like when the pandemic first happened, I know you guys have the same situation. Like work really slowed down for a first few months and then I found I mean, there were times where, you know, things got pretty tense or anxious, you know, just there's a pandemic going on personally. I was feeling a little bit stressed.
00:49:01:14 – 00:49:29:12
Josh Usheroff
The Times were having trouble sleeping at night. And I joined a couple of different Facebook groups for video creators. And I found that one of the ways that I could kind of get my mind off of that and like I've got some some pleasure from or some personal fulfillment from was just giving my advice to other people that were in the same boat or, you know, maybe like had a question about how to approach something with the client.
00:49:30:16 – 00:49:58:11
Josh Usheroff
That I felt like I had something to offer. So one of the ways that I was like de-stressing was joining these chat groups and when people needed advice and I felt like I could have something to offer, some kind of constructive feedback that I would kind of add my $0.02 there. So that's something that I don't know that I've really made like a sort of formalized approach about about offering that kind of advice.
00:49:58:11 – 00:50:07:13
Josh Usheroff
But I did find it very helpful to see what other people are facing in terms of challenges and also offer my $0.02 about if I was in that situation, here's what I would do.
00:50:08:09 – 00:50:29:10
Kyrill Lazarov
Well, that's what the pandemic essentially did. And everyone, like you said, everyone was certainly suffering in some way in one way or another. And you know, like even as you mentioned, Darren, I was it was a struggle at the beginning. But, you know, like we noticed that a lot of people were much more willing to help, you know, and give advice, you know, and help others get back on their feet.
00:50:29:10 – 00:50:49:07
Kyrill Lazarov
And there's a lot of reciprocation, which I think was good. You know, I feel like a lot of people look at business and competitors in a way as like, you know, people you don't really want to go near or or or help in any way because then they'll, like do better than you. But it's like, you know, as we mentioned, everyone has their own slice of the pie.
00:50:49:07 – 00:51:00:00
Kyrill Lazarov
You know, everyone's also trying to learn, you know, put food on the table and and and succeed. And it's just interesting to see how willing people are to be helpful to one another now, especially because of the pandemic.
00:51:00:17 – 00:51:26:17
Dario Nouri
And in a way, like, okay, I was just going to say in a ways like the way you were going on those Facebook groups and and helping those other people out, we kind of had the same intention with the podcast when we started. It was kind of like other people that were in the same boat. At least they could hear that other people were going through the same things and then kind of like take your mind off the focus more on like, okay, well, if you have a company and whatever, like there's a good way to do just there's some interesting things to learn.
00:51:27:10 – 00:52:01:08
Josh Usheroff
Yeah. I don't think it's healthy to look at other video producers as competition. I mean, sometimes there are cases where you're betting against another company that you know, but at the same time, there's more opportunities to collaborate with those people to work together if they need a second shooter or you need some help in this category. Like there's production companies that I still reach out to like especially if you need to screw up for a big crew with, with a large team where you can call and say, hey, like can you recommend any pay is the first three people I call, they're unavailable, you know, someone good and like, I will reciprocate that as well.
00:52:01:08 – 00:52:17:09
Josh Usheroff
I think like it gives me a lot of pleasure to connect good people. So if I if there's someone I've worked with in the past who I like and they need help on something and I can't help them out, then I'm happy to hand them off to someone else who I think is going to be a good fit for them.
00:52:17:22 – 00:52:37:16
Kyrill Lazarov
Yeah. And one quoting after after doing this podcast is that we've also gotten into the habit where like sometimes like we even see like there are projects where like all we know that this potential project would be a great fit for XYZ company. Let's connect them because I think that they'll do such a great job for it because, you know, like you said at the beginning, you know, everyone wants to do a little bit of everything, right?
00:52:37:16 – 00:52:54:04
Kyrill Lazarov
And then over time, you start to recognize what your skillset is, what you're really good at. You start to find the talent around you where you know that they're really good at something, that you aren't better to recommend them, you know? And you know, it makes it makes not only them look good, it makes you look good. You know, for making that recommendation.
00:52:54:14 – 00:52:59:14
Kyrill Lazarov
And, you know, everybody everybody gets to work and collaborate eventually over time. Right. Which is really cool.
00:53:00:19 – 00:53:29:24
Josh Usheroff
Totally. Yeah. I mean, I think for us, a black box our focus is really on like well crafted projects, like things that are done with intention. There's a lot of thought that gets put into it. I mean, obviously often working with agencies or our clients directly, there's a period of of weeks leading up to the project just to get alignment on the, the creative treatment or the scripts or those kinds of things.
00:53:30:07 – 00:53:49:18
Josh Usheroff
And so I'm more interested in doing these well-thought out, well crafted projects. Maybe less of them and maybe at a higher price point compared to more, let's say, disposable video, which is going to be done really rough and really quickly and will live on social media for a short time. And then it's sort of on to the next thing.
00:53:50:17 – 00:54:11:04
Josh Usheroff
Like we are not really set up to be a video factory. And I know that there are like some successful production companies that are more of that mindset. My feeling with Black Box and sort of like Know Yourself is that we want to work on projects that are that are well-crafted, well-thought out that everyone is aligned on before we get into it.
00:54:11:04 – 00:54:18:06
Josh Usheroff
So that I know it's going to be a successful experience for for everybody involved in that we can deliver on what we set out to from from the onset.
00:54:20:07 – 00:54:28:23
Dario Nouri
So it well, okay. Before we end off, we always like to ask this question to our guests. So tell us how you came up with the name.
00:54:30:12 – 00:55:14:20
Josh Usheroff
Black Box Productions. Okay. Well, when we were, I don't know, late teenagers like 18, 17, 18, something like that. I think Ben and I wanted to have a two story big black party space that we could have screenings and party with our friends and it was going to be called the black box. When I was in university I, I ran this, I guess film festival sort of called the video party because I've been to a lot of screenings and film festivals and often after the screening, like everybody just kind of goes home.
00:55:14:20 – 00:55:39:22
Josh Usheroff
Maybe there's a Q&A with the director, but there wasn't a sense of community. And so I started throwing these video parties where most of the filmmakers would be present. There were deejays and bands. There was definitely some alcohol involved, and it was a good way to, like, show your work. But do the community socialize, like, ask people questions about their films and, and like have a good time?
00:55:39:22 – 00:56:05:17
Josh Usheroff
And so I think that the name Black Box which was like the dream venue space and, and Video Party kind of came about around the same time. And then it's, it's not a venue. But you can see, I don't know for anyone watching on YouTube, I'm in my black box right now, but that's, that's where the name began.
00:56:05:17 – 00:56:24:12
Josh Usheroff
And then we sort of thought it could be applicable to this like another meaning of black box in terms of like information goes in and information comes out, but you don't really know the magic that's going on inside the black box. So there's like the, the creative process inside the black box as well. That's maybe another interpretation of it.
00:56:25:10 – 00:56:48:14
Kyrill Lazarov
No, that's really cool. It's always nice to kind of hear, like, how a lot of people's like company names there. There's always some kind of more personal touch to it, you know, or like an origin story to it. It's never it's not usually something that just gets thrown right out of a hat, you know, and it's it's just well, kind of, kind of that we have our own story about that, which everyone has heard it like hundreds of times.
00:56:48:14 – 00:56:51:07
Kyrill Lazarov
They're not going to get it. So we can tell you this after call, but.
00:56:53:15 – 00:56:55:02
Dario Nouri
But we basically pulled it out of a hat.
00:56:55:21 – 00:56:56:03
Kyrill Lazarov
You know.
00:56:56:14 – 00:57:00:10
Dario Nouri
Pulled it out of a short film we were supposed to make. That's what we did.
00:57:00:18 – 00:57:01:24
Josh Usheroff
Yeah. Yeah.
00:57:01:24 – 00:57:15:21
Kyrill Lazarov
Nice but anyways, Joshua, we really appreciate you hopping on the on creatives grab coffee with us and sharing your experiences and your origin story. And yeah, no, we, uh, thanks a lot, man.
00:57:16:18 – 00:57:34:23
Josh Usheroff
Thanks for having me. I'm glad to be on here. This is the first time I've ever been invited on a podcast. I picked up a microphone at Blue Yeti just for this. They can come through clearly and sound good. I need to up my game a little bit. And yeah, it was great talking with you guys, and I wish you all the success with the rest of the podcast.
00:57:35:17 – 00:57:37:01
Dario Nouri
Awesome. Thank you. All right.
00:57:37:01 – 00:57:38:01
Kyrill Lazarov
Thanks, man. Take care.
If you liked this podcast then please share it!
Join Our Newsletter
Check out more episodes!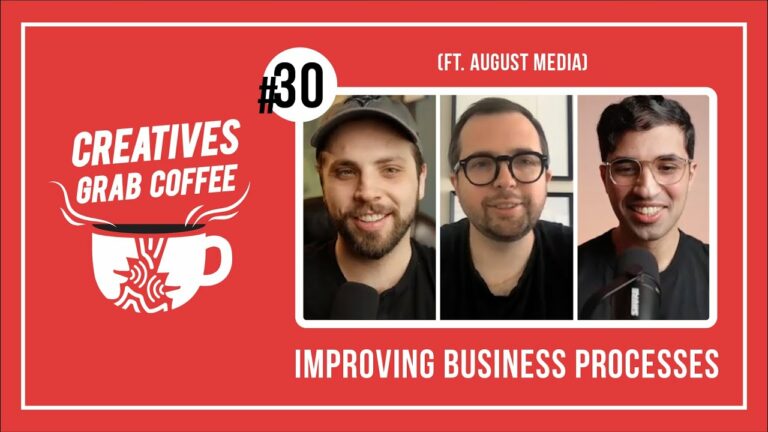 Today we are joined by Sasha Ulyanov from August Media. August media is a boutique…