Creatives Grab Coffee #3 – Post Covid Productivity and Job Security
Welcome to Creatives Grab Coffee, hosted by Kyrill Lazarov & Dario Nouri. Creatives Grab Coffee is a podcast on the business of video production.
This episode we discuss post covid-19 productivity and job security.
When COVID-19 hit we were left with a lot of uncertainty. Like most other people, we went from having a bunch of projects in the work to now suddenly everything is cancelled. For the first two months we didn't do much work because we never faced such a situation before. Suddenly everything was closed and there was panic and fear worldwide. After the 2 month mark we got fed up with not being able to do anything so we started to brainstorm ways of keeping ourselves busy. As it turns out this happened to be an excellent time for us to do a complete audit of our business. This is something that we had been meaning to do for quite some time but we just never had the time to do. During our audit we determined that we had never really created a business plan. So this is what we started to work on right away. We also started to create consistency with our actions in order to get us back on track after being dormant for two months. This started with daily calls to keep each other focused. This show was also another thing we created in order to get back in the groove of content creation. We talk more depth about these topics in the episode so make sure to check it out!
Subscribe and follow for future episodes!
Spotify: https://open.spotify.com/show/2vHd8BdbkMQITFZmDJ0bo9
Apple: https://podcasts.apple.com/us/podcast/creatives-grab-coffee/id1518863773
Instagram: @CreativesGrabCoffee
Produced by LAPSE PRODUCTIONS – www.LapseProductions.com
If you liked this podcast then please share it!
Join Our Newsletter
Check out more episodes!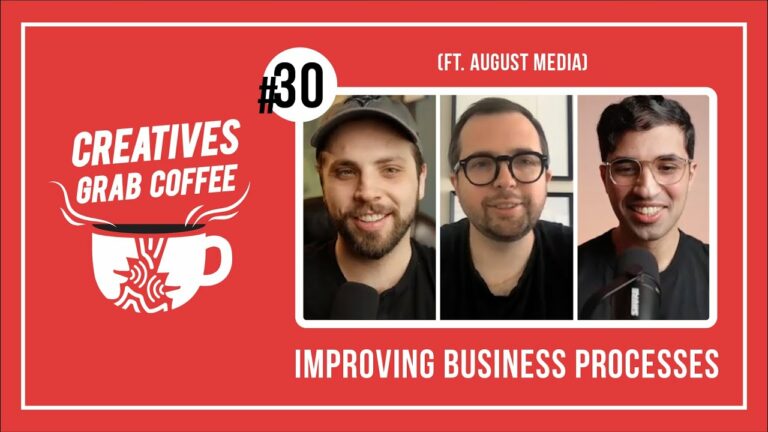 Today we are joined by Sasha Ulyanov from August Media. August media is a boutique…