Welcome to Creatives Grab Coffee, hosted by Kyrill Lazarov & Dario Nouri. Creatives Grab Coffee is a podcast on the business of video production.
Today we welcome our guest Sam Sferrazza. Sam is a producer and founder of Route Eleven, a Toronto based production company that makes music videos, commercials and content for brands, artists and agencies alike.
Producer Qualities
During our chat, we discussed a wide range of topics in relation to video production. A key topic was the key qualities that producers needed to have. It does not matter what type of content you are creating. All great producers have mostly the same qualities that make them and their productions successful.
Covid-19 Impact
The coronavirus posed a particular set of questions and challenges. We asked Sam whether production moved forward with the new restrictions in 2020. He shared that Route 11 was able to continue to push through the pandemic where so many other companies were unable to.
Music Video Production
Sam outlined to us the challenges you face when creating music videos, managing creative people and working closely with directors. He also shared how to select the right directors for the projects depending on their unique needs.
Creativity and Keeping Clients Happy
We chatted about the business of selling creativity and how important it is to make sure the clients are happy. Sometimes sacrifices need to be made in order to achieve this, even if it means some key creative decisions need to be altered. Egos are always a tricky thing to manage in the creative world. People get attached to their work and will find it difficult to make necessary sacrifices. A great producer will be able to tackle this challenge and know when it is necessary to make these tough decisions.
Subscribe and follow for future episodes!
Spotify: https://open.spotify.com/show/2vHd8BdbkMQITFZmDJ0bo9
Apple: https://podcasts.apple.com/us/podcast/creatives-grab-coffee/id1518863773
Instagram: @CreativesGrabCoffee
Produced by LAPSE PRODUCTIONS – www.LapseProductions.com
If you liked this podcast then please share it!
Join Our Newsletter
Check out more episodes!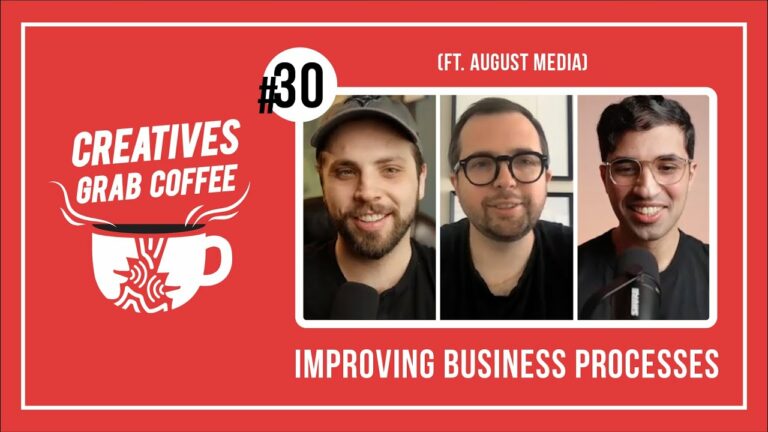 Today we are joined by Sasha Ulyanov from August Media. August media is a boutique…