Creatives Grab Coffee #10 – Managing & Scaling Your Business (ft. August Media)
Welcome to Creatives Grab Coffee, hosted by Kyrill Lazarov & Dario Nouri. Creatives Grab Coffee is a podcast on the business of video production.
Today we welcome our guest Sasha Ulyanov. Sasha is a serial entrepreneur passionate about building communities for creative people. He is a Managing Partner at Purple Tree Photography, Mint Room Studios, August Media, and Indigo Visual Co.
Managing Multiple
Creative Businesses It is difficult enough to manage one creative company but Sasha is one of the few entrepreneurs who is actively working on several businesses. How do you keep consistency and manage to scale all of these businesses? Sasha says that the only way to do this is not to manage the business but more so the people that work within the company. Giving people the opportunities and guidance to reach the goals is key to the company's success.
Team Management
Finding the right people is difficult for any business. Sasha focuses on learning what the goals and ambitions are for his prospective team members. This allows him to think about how they will integrate with the rest of the team and the company in the long term. Once you have your team, you need to divide up responsibilities and delegate them to the right people. This will ensure the work is done to the highest of standards with great efficiency.
It's all about the client
With every client project, Sasha wants to figure out how he can make the process as convenient and simple for their clients as possible. You need to determine first what your clients' needs are which will help you plan out the creative. He shares how transparency also helps build trust by allowing open and constant communication between himself and his clients.
Subscribe and follow for future episodes!
Spotify: https://open.spotify.com/show/2vHd8BdbkMQITFZmDJ0bo9
Apple: https://podcasts.apple.com/us/podcast/creatives-grab-coffee/id1518863773
Instagram: @CreativesGrabCoffee
Produced by LAPSE PRODUCTIONS – www.LapseProductions.com
If you liked this podcast then please share it!
Join Our Newsletter
Check out more episodes!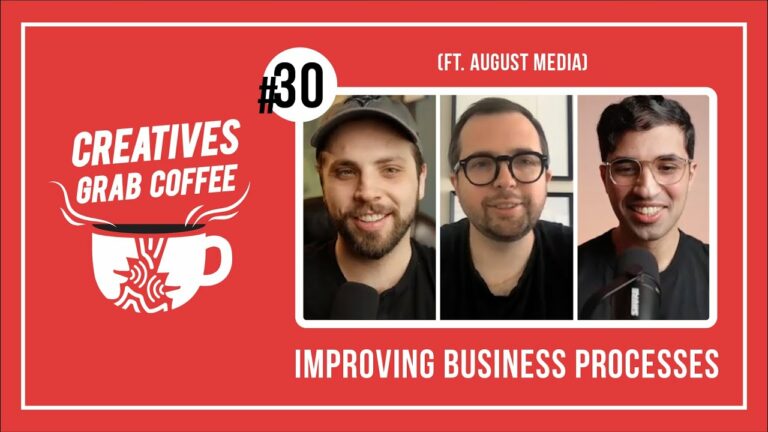 Today we are joined by Sasha Ulyanov from August Media. August media is a boutique…